Research shows improved financial literacy can open doors for financial stability in life.
Economic and financial literacy education programs provided by the Minnesota Council on Economic Education since 1961 have helped countless teachers and students to understand the ever-changing world of economics and personal finance. The need today is greater than ever for young Minnesotans, many of them immigrants and minorities, to be able to navigate the complex financial maze as they transition to college and adult life.
Sponsored by Rep. Steve Sandell (DFL-Woodbury), HF3393 would help the council continue its mission through a $150,000 appropriation in fiscal year 2023. It would set an annual budget base of $300,000 for fiscal year 2024 and beyond.
The bill was held over by the House Education Finance Committee Thursday for possible omnibus bill inclusion. The companion, SF3426, is sponsored by Sen. Zach Duckworth (R- Lakeville) and awaits action by the Senate Education Finance and Policy Committee.
"I hope we can endorse this," said Sandell. "I hope this bill can go from here to the finish line."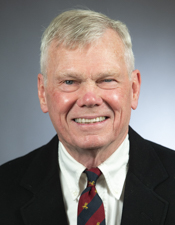 Rep. Steve Sandell
In the 2021, the council — hosted by the University of Minnesota's Department of Applied Economics in the College of Food, Agriculture, and Natural Resource Sciences — received one-time state funding of $150,000 per year for fiscal years 2022 and 2023. Its financial challenges have increased with the drying up of traditional sources of funding, including federal dollars, said Julie Bunn, the council's executive director.
"MCEE has ambitious plans for the future that are necessary to improve the financial literary of Minnesotans," Bunn said. Last year, more than 2,500 teachers registered for online classes with each teacher potentially impacting thousands of students.
The council also directly served 1,500 students annually through student competitions and capstone experiences in 2020 and 2021, she added.
Joel Coleman, a social studies teacher at Ubah Medical Academy in Hopkins, spoke of the training he got from MCEE that helped change his approach to teaching and student engagement.
When he started his career, Coleman wanted his first-generation students to get to college, but after attending MCEE programs — that included courses lasting 10 weeks — he's been able to guide his students to graduate successfully from college on time and with minimal loans.
MCEE coursework also helped Brandy Siddiqui, K-12 social studies & ethnic studies district program facilitator at Minneapolis Public Schools. She learned to "gamify" teaching economics after attending a professional development course. The MCEE content has a social, emotional learning element, which brings a human element to teaching economics, she said. It can make even a reluctant social studies teacher become passionate about learning and teaching economics.