Alex Reaves acknowledges she looks like the typical mother of two. She works from home in the mental health field and admits to watching too many true crime stories.
"What you wouldn't assume is that I have a criminal history and I actually spent two years in prison." she said. Her ex-husband ran a Ponzi scheme for 2 ½ years, but Reaves only knew about it for six months. She did not report him to law enforcement, which, by federal law, made her a co-conspirator.
At the time she was pursuing her master's degree in forensic psychology with a concentration in forensic assessment. Her plan was to work with inmates.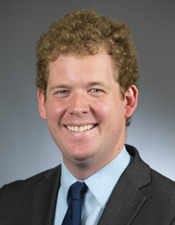 Rep. Zack Stephenson
"Now that I have a criminal history it's been a challenge even to continue my master's degree because school applications ask me about criminal convictions, and even worse, I'm unsure if I would even qualify for a license when I finish all the required education," she said. "I've emailed the state of Minnesota to know if I would be disqualified for getting a license because of my conviction and their answers are vague and really unclear."
Sponsored by Rep. Zack Stephenson (DFL-Coon Rapids), HF3403 aims to help people like Reaves.
It would establish a procedure whereby people could understand within 60 days of a preliminary application if they're eligible for a license before spending time and money trying to attain it.
"We'd require agencies to give a determination on the front end as to whether a person is eligible based on their criminal history. And that determination would be binding," Stephenson said. Many licensing agencies do something like this, he noted, but uniformity is sought.
Approved 11-2 Tuesday by the House State Government Finance and Elections Committee, its next stop is the House Commerce Finance and Policy Committee.
Anna Odegaard, director of the Minnesota Asset Building Coalition, said the bill would benefit both people looking for a career and businesses seeking qualified employees.
"In 19 states and Washington, D.C., individuals with criminal records have a pre-clearance process to apply to state licensors at any time prior to enrolling into required education or training programs," wrote Jenna Bottler, deputy director of Justice Action Network.
Rep. Steve Drazkowski (R-Mazeppa) supports the idea, but voted against the bill because it would allow agencies to charge a fee to cover any request expenses.
"You have a great idea here. But we need to tell the agencies they need to be doing this. This is customer service for the people of Minnesota," he said. "… If you get rid of the fee in the bill, I'll sign on as a co-author and help you move the shopping cart through the store."
A fiscal note has been requested, and Stephenson said he'd be open to have the preliminary fee go toward the cost of a license application.
Sen. Mark Koran (R-North Branch) sponsors the companion. SF3036 awaits action by the Senate Health and Human Services Finance and Policy Committee.