Supporters say an ethnic studies program in Minnesota schools would enhance educational outcomes by better engaging students, and would help students develop a sense of belonging and appreciate diverse cultural nuances to succeed in an increasing global world.
Others say the so-called "critical race theory" would do more harm than good.
"More than a third of students in Minnesota schools are students of color, but Minnesota classrooms have not kept pace with the growing diversity of our student population," Rep. Cedrick Frazier (DFL-New Hope) told the House Education Finance Committee Tuesday.
He sponsors HF3434 that would incorporate ethnic studies into social studies graduation requirements, require the Department of Education to adopt ethnic studies standards, and establish a task force to advise the department on ethnic studies standards and curriculum.
"All students deserve to see themselves in their classrooms — their own cultures, communities, and histories — including in their curriculum," Frazier said.
As amended, the bill was laid over for possible omnibus bill inclusion.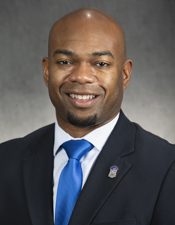 Rep. Cedrick Frazier
Its companion, SF3557, sponsored by Sen. Mary Kunesh (DFL-New Brighton), awaits action by the Senate Education Finance and Policy Committee.
"We don't have to go far to learn about each other," said Michelle Chang, lead organizer for education policy with the Coalition of Asian American Leaders. The bill would help students cultivate knowledge of self while learning about others around them and, she said, the focus on the experiences of people of different ethnic backgrounds will help students develop critical thinking skill empowering them to be agents of change.
Peter Rachleff, co-executive director of the East Side Freedom Library, highlighted the role of various immigrant communities in shaping Minnesota's economic, political, and cultural development over centuries. "If we do not pay attention to these diverse experiences, we cannot understand how we became who we are nor how we could become who we would like to be."
"Ethnic Studies enables all students to better understand the rich heritage, culture, and history of the land upon which we live, told from multiple and diverse perspectives," wrote Danyika Leonard, policy director at Education Evolving.
Walter Greason, history professor at Macalester College, sees ethnic studies as a tool of empowerment for local communities. "Education too often is envisioned as a way to focus on training people to comply with authority. Ethnic studies places the students' voices and their choices at the center of education as a process of liberation."
The Minnesota Family Council agrees that ethnic history, including racism, should be taught, but not as proposed.
"As defined in the bill, ethnic studies 'means the critical and interdisciplinary study of race, ethnicity, and indigeneity with a focus on the experiences and perspectives of people of color within and beyond the United States.' In other words, the study of history would be through the lens of critical theory, also referred to as critical race theory," wrote Rebecca Delahunt, associate director of public policy.
"… The Minnesota legislature should be drafting legislation that protects the rights of all students, rather than legislation that directs schools to create policies demanding different but not equal treatment. All high schoolers must be taught that their classmates are equals. History should be taught in an unbiased fashion that encourages students to appreciate heritage while acknowledging the ways in which our ancestors have fallen short of founding ideals, inspiring students to collaboratively live up to those ideals."