Investing in freight rail returns value to the state, argue supporters of a bill to provide an additional $20 million for smaller rail lines.
Every ton carried by rail is a ton not hauled by trucks on state highways, said Rep. Paul Torkelson (R-Hanska). That saves wear and tear on the roads and reduces emissions since railroads are more energy efficient.
"But they've got to have the rails to run on," said Torkelson, the sponsor of HF2941.
The bill would provide $20 million from bond sales for the Minnesota Rail Service Improvement program, which offers grants and loans for rail, including capital improvement and rail line rehabilitation. It was laid over for possible omnibus bill inclusion by the House Transportation Finance and Policy Committee Thursday.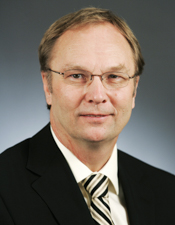 Rep. Paul Torkelson
Short lines connect communities to larger national and international rail lines and often provide the first and last mile to move goods to and from small, primarily rural communities. There are 821 miles of Class II, III and private railroad lines in the state compared to more than 3,500 miles of Class I rail lines.
The latest estimate of the cost to get short lines up to the standards of larger lines is about $150 million, Torkelson said. Grant requests were five times more than money available in the latest round.  
Operating short lines is a small, capital-intensive business, said Tina Ryberg, vice president for operations at Twin Cities & Western Railroad. Replacing tracks can cost up to $500,000 per mile. Bridges can cost $1 million to $5 million or more to replace.
"Railroads only exist for one reason – to move stuff," Ryberg said. "Investing in Minnesota's short line railroads directly benefits the producers, the businesses and the communities that they serve. This keeps our economy strong."
Rep. Connie Bernardy (DFL-New Brighton) asked about having community input as part of the criteria for state support.
"I just really think it's important before these rails are upgraded and changes are made that the community is involved," Bernardy said. "The only leverage we have with railroads is if we're going to give state funding."  
Rep. Steve Elkins (DFL-Bloomington) noted a short line that runs through Bloomington, and the community has real concerns about a railroad bridge going over Nine Mile Creek.
"I think some state investment in upgrading these short line railroads is warranted," he said.
The companion, SF2621, sponsored by Sen. John Jasinski (R-Faribault), awaits action by the Senate Capital Investment Committee.