Minnesota could be a national leader in putting new guardrails on social media platforms such as TikTok and Instagram.
HF3724 would bar social media platforms from using algorithms to drive user-generated content to those under age 18. It was approved 15-1 by the House Commerce Finance and Policy Committee Tuesday and now goes to the House Judiciary Finance and Civil Law Committee.  
Rep. Kristin Robbins (R-Maple Grove), the bill sponsor, believes it could be a model for the rest of the country, and people have been waiting too many years for the federal government to act.
"Meanwhile too many kids are struggling, or worse, dying," she said.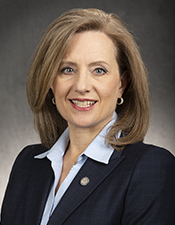 Rep. Kristin Robbins
Robbins said was inspired by Wall Street Journal articles. One described teens being bombarded by content about alcohol, sex and drugs. Another described a bot account purported to be a 13-year-old that received tens of thousands of ads for weight loss in a few weeks.
Under the proposed legislation, minors can still have social media accounts, but their feed would be from people they like or friends, not algorithms that can narrow users' view of the world.
Bryn Austin, a professor of social and behavioral sciences at the Harvard Chan School of Public Health and professor of pediatrics at Harvard Medical School, described research into social media that have shown harm to the mental health and well-being of adolescents.
Image-based platforms are linked to eating disorders, among the deadliest of all mental health conditions, killing about 10,000 people each year, she said.
If a teen likes a post showing before and after weight-loss pictures, algorithms will amp up that kind of content. Even more insidious, she said, algorithms boost posts by troubled teens, knowing they increase engagement and leveraging them for profit.
Representatives of tech companies argued Robbins' bill is too broad. User-generated content could include things such as reader comments on newspaper stories. Companies might restrict content available to adults, rather than risk violating the law.
The proposed legislation would undermine beneficial use of technology, violate the First Amendment, interfere in parental control and create a false sense of security, NetChoice policy counsel Jennifer Huddleston wrote.
Committee chair Rep. Zack Stephenson (DFL-Coon Rapids) was unimpressed by the argument that algorithms shouldn't be barred because they are a vehicle companies use to send healthy, age-appropriate content. He compared it to saying you can't ban cigarettes because it would prevent young people from the benefits of cigarette filters.
"These companies are doing immense damage to our communities, to our children," he said. "I am very determined to take some action before it is too late."
The companion, SF3922, is sponsored by Sen. Roger Chamberlain (R-Lino Lakes) and awaits action in the Senate Commerce and Consumer Protection Finance and Policy Committee.