One in six Minnesota children experience food insecurity; one in four food-insecure children in Minnesota live in a household not eligible for free school meals, according to public data.
Sponsored by Rep. Sydney Jordan (DFL-Mpls), HF1729 would ensure schools provide breakfast and lunch at no cost to all enrolled students without collecting information about their household incomes.
The bill would require schools to participate in the Community Eligibility Provision, which allows eligible districts and schools in low-income areas to provide free breakfasts and lunch using simplified meal counting and claiming methods. Schools and local educational agencies are eligible if at least 40 percent of students in the prior school year qualified for free meals.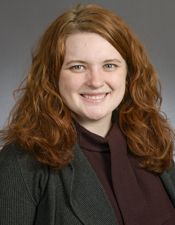 Rep. Sydney Jordan
"Minnesota currently ranks 47th in the nation for schools enrolled in the Community Eligibility Provision," Jordan told the House Education Policy Committee Wednesday. "We know programs to tackle childhood hunger in our schools work because they are already working. During the pandemic, our federal government recognized the critical link between schools and healthy families and broke down barriers to set up food pickup sites within our schools."
The bill, as amended, was approved 16-2 and referred to the House Education Finance Committee. It has no Senate companion.
Aaliyah Demry, a youth leader with Appetite for Change, spoke of her family's struggles because her mother's income didn't allow her to qualify for free lunch. Now a student at St. Cloud State University, Demry said she often felt hungry and tired in school, which may have hurt her studies. She still has siblings in school and supports the bill for their sake.
"We can create hunger-free schools," said Ruth Davis, a parent who wonders why federal pandemic aid that's allowed public schools to provide free meals to all students since mid-2020 couldn't continue.
It's about helping struggling families and providing nutritious meals to student so that they can focus on achieving their academic potential, not shaming those unable to pay for meals or drowning families in reams of paperwork, she said.
Matt Shaver, policy director for EdAllies, was among those submitting letters of support. He cited a 2021 Brookings Institute study that found "schools providing access to universal meals raised achievement and decreased suspensions for students who would not have otherwise had access to subsidized meals."