Reauthorization of a reinsurance program meant to stabilize health insurance premiums in the individual market was passed by the House Thursday.
Members voted 70-58 to pass HF3717/SF3472*, as amended to include House language, that would reauthorize a state supported reinsurance program through 2027.
The bill now goes back to the Senate which passed its version 42-24 March 14. A conference committee is expected to work out the differences.
The Minnesota Premium Security Plan reimburses carriers in the individual health insurance market for a portion of high medical costs. The state pays a portion of the bills rather than insurance companies spreading the cost of extremely high bills by raising premiums on everyone in the individual market, about 165,000 people.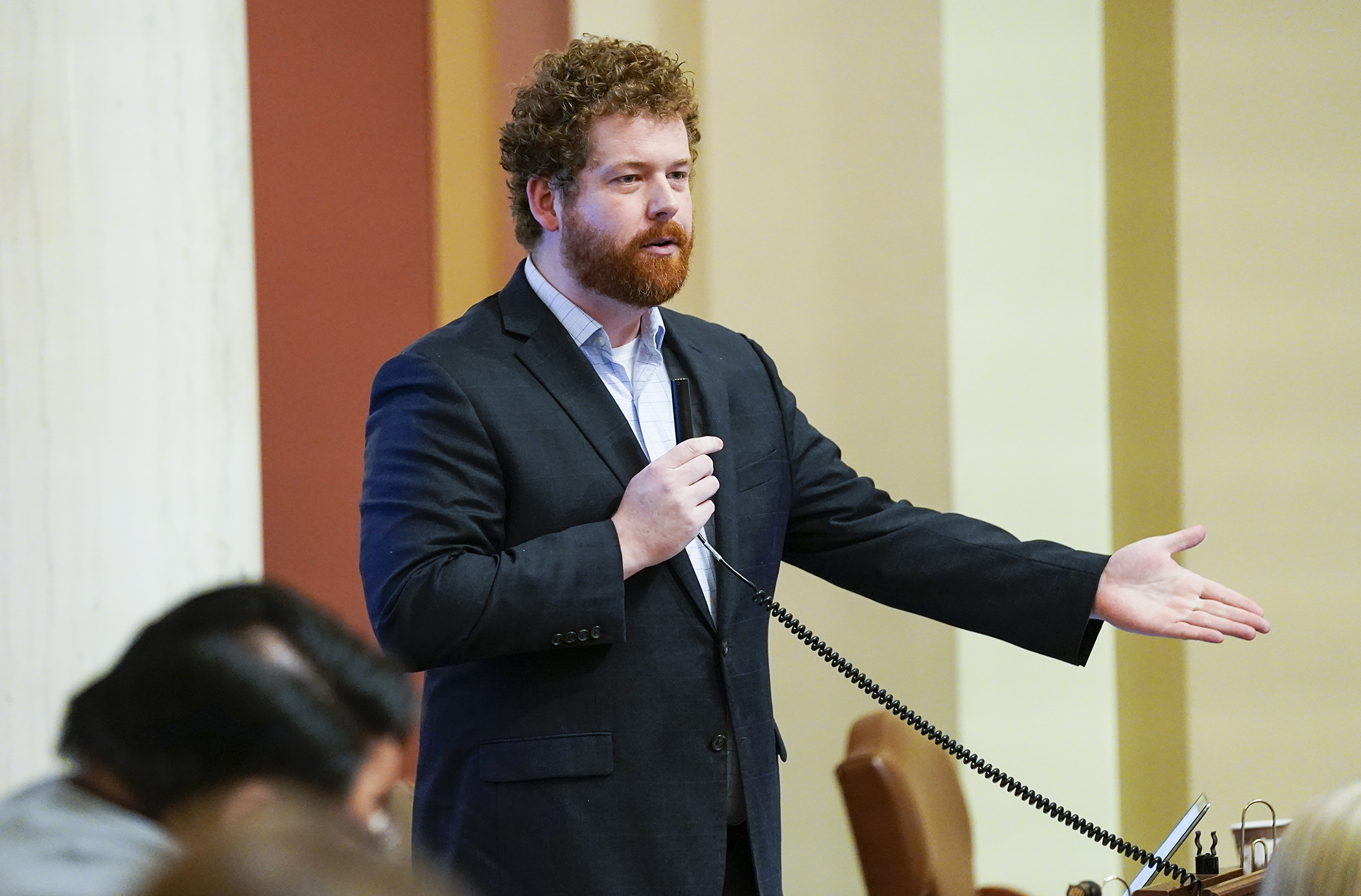 Rep. Zack Stephenson makes closing comments on his bill which would reauthorize reinsurance for individual health insurance market during floor session March 24. (Photo by Paul Battaglia)
The program started when premiums in the market were roiling, and it's been estimated premiums are at least 20% lower than they would be otherwise.
Reinsurance was created five years ago as a bridge program to help consumers until a more permanent solution could be found, said Rep. Zack Stephenson (DFL-Coon Rapids) who sponsors the bill with Sen. Gary Dahms (R-Redwood Falls).
"Five years later we have not come up with a workable alternative," Stephenson said. "We have a choice to make: Do we walk away and see premiums suddenly increase?"
Stephenson said the bill would correct some issues in the reinsurance program. One is MinnesotaCare would get less money from the federal government because of the state's reinsurance program, he said. The legislation would transfer money from the General Fund to make up for the loss.
The proposal would also require the Department of Human Services to work with federal agencies to develop a proposal to expand a public health care option and appropriate $4 million to study it and other health care delivery systems.
The reinsurance program is not a long-term solution and only a bridge, Stephenson said, and the studies would tell legislators what it is a bridge to.
The program works as is, said Rep. Tim O'Driscoll (R-Sartell). He hoped the House would concur with the Senate language that would fund the program for five years with $1.1 billion.
Prior to the reinsurance program, health insurance premiums were skyrocketing, but they came down with the backstop, O'Driscoll said. "We know this program has been very successful and is gaining steam across the country."
Other provisions in the legislation would:
require health plans that offer a bronze level plan to create a platinum level plan as well as offer silver and gold plans;
require plans to cover postnatal care and set standards for prescription drug benefits; and
create an office within the Department of Commerce to ensure mental health and substance abuse parity.