Rep. Zack Stephenson (DFL-Coon Rapids) says more than 20% of Minnesota adults report having a mental illness but, given the stigma surrounding mental health issues, the true number is likely much higher.
He believes Minnesota is experiencing a behavioral health crisis that is one of the most critical issues facing the state and that the time is right to begin talking about creating a new state agency to focus on the problem.
Stephenson sponsors HF3086 that would create the Department of Behavioral Health by elevating a division that is currently part of the Department of Human Services to become its own agency.
"The problem with our mental health system isn't that it's broken, it's that it was never built in the first place," Stephenson told the House Behavioral Health Policy Division Wednesday. "… All this bill does is it seeks to take that division and elevate the good work that the people in that division are doing, and make it a standalone cabinet agency.
"Why? The nature of this crisis is so severe we need someone with true statutory authority, with true accountability and a direct line to the governor, to deal with this problem on a day-to-day basis."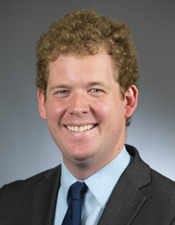 Rep. Zack Stephenson
The division heard the bill on an informational basis. Rep. Peter Fischer (DFL-Maplewood), the division chair, said the discussion was meant to start a conversation about the issue and that work will continue in the months and years to come.
Fischer likened trying to oversee the state's response to mental health problems with how Minnesota's water issues are regulated – a complicated and confusing process with different responsibilities spread across many jurisdictions that can be tough to navigate for all concerned.
He noted that in its work over the last couple of years, his division heard bills that were referred on to the health, education, higher education, corrections, public safety, judiciary and housing committees and said it was time to lay the groundwork and "have this bigger discussion about how we deal with behavioral health issues in our state" by building a better coordinated system.
Randy Anderson, founder and principal of Bold North Recovery and Consulting, said he hears a common theme when talking with his network of small providers in the substance use disorder field: "DHS is too big and they wish there was an agency or department where they felt heard, more included, better communicated with."
However, Human Services Commissioner Jodi Harpstead said splitting her agency is not the best solution and that doing so would be expensive and run counter to current best practices in behavioral health care that call for integrating it with physical health, not separating the two.
She said splitting the division off would create a 27th commissioner for the governor, while the behavioral health assistant commissioner is one of only four at the Human Services Department. Harpstead said the department is committed to moving "Minnesota's mental health, substance use disorder and opioid addiction services to whole new levels" over the next three years rather than the three years it would take to create a new agency.
"There are arguments that we can focus even better on behavioral health inside DHS than outside," Harpstead said. "I appreciate the conversation, I'm open to anything we can do to get a better handle on behavioral health issues in Minnesota."
Rep. Keith Franke (R-St. Paul Park) said he appreciates the work done during this "unprecedented time" to help those suffering with mental health issues and shares Harpstead's concern. He said any action would require "baby steps" to make sure no one falls through the cracks if changes are made, and that any mistakes could result in life-or-death consequences if help isn't available when it's most needed.
Rep. Dave Baker (R-Willmar) said he has "done a complete 180" from the days when he used to listen to the late U.S. Sen. Paul Wellstone talk about mental health issues and think, "This guy is not all there." But seeing problems across the state has helped him realize how challenging and important the issue is and he is willing to consider Stephenson's proposal.
"I think, someday, this could be a separate commissioner and department, but I don't know if today is the day," Baker said. "I appreciate having honest conversations about what if."