Creating and encouraging homeownership opportunities has often been discussed by the House Local Government Division this session.
Wednesday was no different, although the focus was on a decades-long issue.
"According to statistics, Black homeownership rates were higher in 1950 than today, and we are definitely moving in the wrong direction," said Kizzy Downie, chief executive officer of Model Cities of St. Paul.
"The homeownership gap is a racial problem, not just an economic problem," said Linda Sloan, executive director of the Council for Minnesotans of African Heritage. "Even after accounting for economic and demographic differences, the Black homeownership rate is still 33% lower than white households. … The homeownership gap has direct impact on Black wealth and long-term economic and social problems in the Black community."
Both believe greater state investment is needed to reduce, and eventually eliminate, the gap.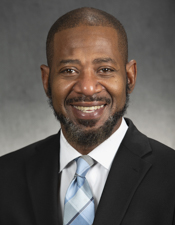 Rep. John Thompson
Sponsored by Rep. John Thompson (I-St. Paul), HF4317, as amended, would add an affordable homeownership incentive account to the Metropolitan Council's livable communities program aimed at "increasing affordable homeownership opportunities focused on servicing African Americans and African Immigrants and other protected groups that own homes in disproportionately lower rates than white households" and direct $40 million to the council to create and administer the program.
Approved 6-2 on a party-line vote, the bill's next stop is the House State Government Finance and Elections Committee. It has no Senate companion.
"Funds could be drawn by cities for the purpose of developing single-family affordable housing units for homeownership opportunities … to close the homeownership gap between the wealthy and the poor in the metro area," Thompson said.
The Metropolitan Council already helps with part of what is sought. A representative agrees that more investment is needed, but thinks other asked responsibilities — i.e. credit counseling, reviewing lending practices and down payment assistance — is not in the council's area of expertise and other agencies are better equipped to handle that.
"For example, Minnesota Housing already has a down payment assistance program and credit counseling as part of their homeownership program," said Lisa Barajas, the council's community development director. "… It would be more impactful to directly fund those agencies and organizations to immediately have the type of urgency that is needed to address the issue."
Rep. Duane Quam (R-Byron) said leveraging current programs is a better way to go.
"With it being second [committee] deadline week, the biggest thing we need to avoid is rushing and having oops that cause problems. I like the intent, I just don't think it's ready, and I'm not sure it would be ready. It's pretty short order to have an amendment generated for the next committee. I won't be voting against, but I'm going to pass on this bill because in a rush mistakes are made."