A series of changes aimed at altering recreational opportunities could come from a bill that would adopt a number of policy and technical proposals sought by the Department of Natural Resources.
There would be multiple changes to snowmobile registration requirements and additional outdoor opportunities for people with disabilities, anglers, bird watchers and photographers.
Sponsored by Rep. Rick Hansen (DFL-South St. Paul), HF4407, as amended, was laid over Thursday by the House Environment and Natural Resources Finance and Policy Committee for possible inclusion in an omnibus bill.
"It's modernizing some older definitions, simplifying or clarifying various procedures, increasing recreational opportunities where we see that," said Jason Garms, a DNR program consultant.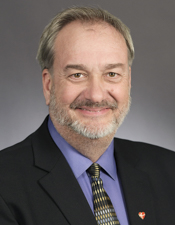 Rep. Rick Hansen
The snowmobile registration requirements would include having the registration number printed on a decal that must be posted in a specific spot on each side of a snowmobile in operation or transport, and the decal must be legible and would require replacement if destroyed or lost. The purpose of the change would be to make registration easily visible.
Two hunting statutes would change. The bill would clarify the definition of unloaded for muzzleloader firearms and eliminate the deer hunting shotgun zone to allow use of all legal firearms statewide during regular firearm season.
In addition to current blaze orange and pink color clothing requirements, any hunting blind on public land would be required to have blaze orange or pink covering the top of the blind.
Two-line fishing would be allowed on the Minnesota River downstream of the Granite Falls Dam and on the Mississippi River downstream of St. Anthony Falls.
Other changes would include:
allowing tribal identification cards to be acceptable proof of residency when applying for hunting, fishing or trapping licenses;
amending language from "disabled hunters" to "people with disabilities," and the singular forms, for accessibility to certain areas;
adding wildlife watching, photography and similar activities as eligible in Walk-in-Access areas;
allowing property owners to nonlethally scare, haze, chase or harass deer or elk causing damage to agricultural crops;
changing the deadline for the DNR's annual efficiency report from Aug. 1 to Oct. 1;
allowing the DNR to create standardized reservation policies for any day-use facilities and for tours, educational programs, seminars, events and rentals similar to camping and lodging reservation policies;
adding a connection from the Luce Line State Trail to the Greenleaf Lake State Recreation Area; and
changing the requirement for timber permit invoices to be postmarked within 30 days instead of paid in that timeframe.
The bill's companion, SF2767, is sponsored by Sen. Carrie Ruud (R-Breezy Point) and awaits action on the Senate Floor.