Two of the biggest concerns heard by the House Environment and Natural Resources Finance and Policy Committee this year have been regulating farmed white-tailed deer to control chronic wasting disease and attempts to get a handle on perfluoroalkyl and polyfluoroalkyl substances (PFAS) from contaminating the state's waters.
No surprise those two topics make up a big part of the omnibus environment and natural resources finance and policy bill.
Members learned more about the delete-all amendment to HF4492 Tuesday. The committee plans to take public testimony and vote on the proposal, sponsored by Rep. Rick Hansen (DFL-South St. Paul), Thursday.
The bill contains 2023 supplemental budget appropriations for the Pollution Control Agency, Department of Natural Resources, Board of Water and Soil Resources, as well as other organizations. It also includes statutory and other changes related to the environment and natural resources.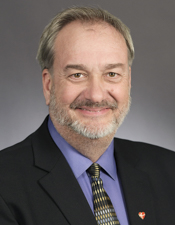 Rep. Rick Hansen
"This is a comprehensive bill," Hansen said. "This bill reflects priorities that we have heard not only this year, but last year. As I mentioned last week, we're focusing on the future while we are also righting past wrongs."
The bill would appropriate $68.9 million to the Board of Water and Soil Resources, $57.9 million to the Pollution Control Agency, $54.3 million to the DNR and for a variety of new and existing programs.
[MORE: View the spreadsheet]
Along with a one-time appropriation of $45,000 to the Minnesota Zoo in fiscal year 2024, the bill would provide the following funds to these organizations in fiscal year 2023:
$13.1 million to the Metropolitan Council;
$10.5 million to Explore Minnesota Tourism;
$1.75 million to a Minnesota Outdoor Recreation Office, established in the bill;
$500,000 to Conservation Corps Minnesota;
$500,000 to the Science Museum of Minnesota; and
$180,000 to the University of Minnesota.
The total funds appropriated from the General Fund would be a change of $240 million over base in fiscal year 2023 and $35 million over the base in the next biennium.
The farmed Cervidae, including white-tailed deer, provisions would include having owners immediately notify the DNR if a farmed cervid escapes and is not returned or captured within 24 hours, require perimeter fencing for farmed cervids, prohibit intentional movement of the animals unless certain criteria are met and require owners of farmed white-tailed deer to test their herd for chronic wasting disease.
The bill would ban all PFAS in carpet and textiles, cookware, cosmetics, juvenile products and ski wax.
Other provisions in the bill include:
prohibiting the use of a pollinator-lethal pesticide in cities with an ordinance;
prohibiting the use or selling of seeds treated with neonicotinoids for food, feed, oil or ethanol production;
requiring guidance for the disposal of neonicotinoid-treated seed;
establishing goals to protect, restore and enhance peat soil lands;
prohibiting use of certain pesticides in wildlife management areas, state parks, state forests, aquatic management areas, or scientific and natural areas;
maintaining a long-term management plan for invasive species;
changing the age requirement and other modifications for operating watercraft;
creating the Swan Protection Act;
creating certain protections for taking or selling turtles, including the need for licensing;
providing grants for the Lawns to Legumes program;
establishing soil health goals and creating a cost-share program;
establishing a stormwater infrastructure grant program;
establishing a grant program for composting for multifamily properties;
creating a zero waste grant program;
prohibiting the importation, manufacturing, selling, holding for sale, distributing or offering certain products containing lead or cadmium above certain levels; and
creating and funding air quality monitoring.
Many components from an air-quality bill, sponsored by Rep. Fue Lee (DFL-Mpls) are included, including a study on environmental justice areas.
"We've spent a lot of effort on water quality over the last 30 years," Hansen said. "We need to bring air quality and the air-quality focus up in terms of a priority, and this bill does that."
The DNR's policy and technical proposals are also included.
The Senate omnibus environment and natural resources bill, SF4062, is sponsored by Sen. Bill Ingebrigtsen (R-Alexandria) and awaits action by the full Senate.
***
What's in the bill?
The following are select bills incorporated in part or in whole into the omnibus environment and natural resources finance and policy bill: