Expanding higher education opportunities for low- and middle-income Minnesotans with grants and helping students with intellectual disabilities access college are among highlights of the omnibus higher education finance and policy bill.
The House Higher Education Finance and Policy Committee received a walkthrough and heard testimony on the delete-all amendment to HF3872 on Tuesday and a final vote could come Wednesday.
Rep. Connie Bernardy (DFL-New Brighton), the committee chair and bill sponsor, calls the package an "equity and student centered bill."
Checking in at $100 million in additional fiscal year 2023 spending, the bill would provide $57.46 million for the Office of Higher Education, $32.53 million for the University of Minnesota, and $10 million for the Minnesota State system.
[MORE: See the spreadsheet]
Funding for the Office of Higher Education would help establish an Inclusive Higher Education Technical Assistance Center with a focus to increase access to higher education for students with intellectual disabilities. The money would also be used to create a competitive grant program for postsecondary institutions to help create or expand existing programs for those students. A student-parent support initiative would also be created to provide grants and support services to help students who are parents or expectant parents.
Of the University of Minnesota's $32.53 million appropriation, $6 million would be for targeted student aid and student services. About $1.5 million would go toward the establishment of a green training program to better educate university employees about properly sorting and reducing solid waste and reduction in energy usage.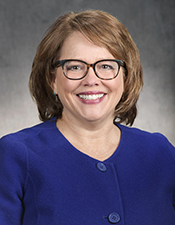 Rep. Connie Bernardy
But J.D. Burton, the university's chief government relations officer, is concerned that at least 50% of the green training program committee members would need to represent labor organizations for frontline service workers.
"We don't believe that advancing this effort through legislation is an appropriate way to achieve this in our shared sustainability goals," Burton said. "It would move the training decisions to a select and limited group of employees who are already part of a collective bargaining unity, thereby, circumventing the bargaining process that we follow today. We would prefer to engage on this topic directly with our employees."
The $10 million targeted to Minnesota State includes $6 million to maintain operations, $2 million for mental health awareness, and $1 million to meet student basic needs.
As for policy, the bill would require an affirmative consent standard in the sexual harassment and sexual violence policies of postsecondary institutions and would require those institutions to train students on the affirmative consent standard.
Other provisions in the bill include:
removing a requirement that undergraduate students must be eligible for a Pell grant or state grant in order to receive American Indian scholarships, and increase the maximum scholarship amount from $4,000 to $8,000 per academic year for undergraduate students and $6,000 to $8,000 per academic year for graduate students;
decreasing the assigned student responsibility for calculating a state grant award from 50% to 48% of the institution's cost of attendance;
adding private nonprofit institutions to the list of institutions eligible for hunger-free campus grants;
appropriating $1.2 million to help Hennepin County Medical Center support three addiction medicine fellows per year for five years;
appropriating an additional $3 million for the aspiring teachers of color scholarship pilot program;
creating a scholarship program for students preparing to become licensed social workers;
appropriating $1 million to expand the career and technical educator pilot project;
making changes to the University of Minnesota Board of Regents selection process by providing that the Legislature shall elect a tenured faculty member and a representative of a university employee labor organization to two of the board's three unassigned at-large seats and that one regent shall be a member of a recognized Indian tribe in Minnesota; and
amend existing law to address how redistricting and reapportionment of congressional districts shall affect the election of members to the board, impose a two-year term limit for regents, and change the composition of the Regent Candidate Advisory Council.
The companion, SF3510, is sponsored by Sen. David Tomassoni (I-Chisholm) and awaits action by the Senate Finance Committee.
***
The following are selected bills that have been incorporated in part or in whole into the omnibus higher education bill: