Putting guardrails around student debt, structured settlements, social media, and annuity sales are included in the omnibus commerce bill.
Sponsored by Rep. Zack Stephenson (DFL-Coon Rapids), HF3607 also includes about $6.53 million in additional General Fund money with the bulk going toward auto theft prevention measures.   
"I think we have a very good and balanced bill before us," Stephenson said, adding it includes provisions from both sides of the aisle.
The House Commerce Finance and Policy Committee received a walkthrough of a delete-all amendment Tuesday, and plans to hear testimony, mark-up and vote on the bill Wednesday.
[MORE: View the spreadsheet]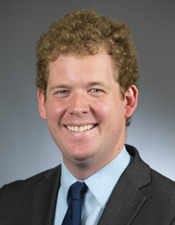 Rep. Zack Stephenson
Before legislators heard the omnibus walkthrough, Commerce Commissioner Grace Arnold explained priorities in a successful supplemental budget request. Additional staff in senior fraud prevention, a manager who specializes in property and casualty insurance, market conditions staff and an additional special agent to investigate fraud would cost about $825,000.
It also contains a policy request to expand an assessment so that all industries the Commerce Department oversees help fund its activities. Some, such as mortgage originators, are not assessed currently.
The omnibus bill also includes many provisions aiming to strengthen consumer protections around structured settlements and annuities.
Other policy provisions in the bill include:
preventing social media platforms with more than a million subscribers from using algorithms to send content to children;
investing in a state-operated car-theft prevention measures, such as decoy cars that could be loaned to local police departments;
discouraging theft of catalytic converters by limiting their possession;
requiring the Commerce Department study and report on disparities in the nine health insurance rating areas around the state;
establishing a student loan advocate, whose duties include creating a student loan education course;
barring insurance discrimination based on status as a living organ or bone marrow donor;
allowing real estate appraisers to receive education credits for following standards of the Appraisers Qualifications Board;
allowing people to submit preliminary applications for a license, registration or certificate to see if results from a criminal background check would disqualify them;
allowing debt collectors to continue working from home;
allowing the Commerce Department to set aside lien filings obviously meant to defraud, harass or intimidate;
requiring notice from homeowner associations' before they begin to foreclose on a home for non-payment of association fees; and
giving health care providers an appeals' process if a health plan company terminates their contract. Contracts can only be terminated with cause.
***
What's in the bill
The following are selected bills that have been incorporated in part or in whole into the omnibus commerce bill: