While noting that more work can be done to improve, the omnibus supplemental agriculture finance and policy bill was approved Wednesday.
Sponsored by Rep. Mike Sundin (DFL-Esko), HF4366, as amended, was approved 7-5 by the House Agriculture Finance and Policy Committee.
Its next stop is the House Ways and Means Committee.
Among concerns that could still be worked on is language regarding public or private data of reviews of grain elevators and raising the cap on reimbursement payments from the agricultural chemical response and reimbursement account from $350,000 to $600,000.
"These are issues that we're going to be working on next year, or someone will be working on next year," Sundin said. "I will say good luck to move those issues forward. Thanks for the constructive discussion and the adjustments we made to this ultimate proposal. So, I'm looking forward to working on this as we move to the [House] floor and conference [committee]."
The bill would create new and additional opportunities for farming and meat processing, developing winter-hardy crops, eliminating noxious weeds and funding soil health initiatives among several other funding and policy provisions.
[MORE: See the spreadsheet]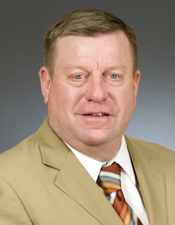 Rep. Mike Sundin
Rep. Paul Anderson (R-Starbuck) unsuccessfully offered an amendment to keep certain grain elevator data private.
"I would hope that we could find some common language where we could keep that information private, non-public, as we move ahead with this," Anderson said.
"There are some legitimate issues that have arisen regarding data privacy," Sundin responded. "I think the language in the bill addresses the need for information available to farmers in selling their crops. I'd like to continue to work on this before it gets to the floor and encourage a no vote for today, but I'm certainly willing to work on moving his efforts forward."
Anderson found success with another amendment to designate a one-time, $10,000 grant to each county for county agriculture inspectors to help with the bill's focus on eliminating noxious weeds.
"We've tried it now for two years," Anderson said. "The county ag inspectors are a dedicated group. They do a lot of things in the counties, and they asked for some dedicated funding, really a relatively small amount to each county, to help them carry out their duties. They have a lot of duties in the field of agriculture, but especially in noxious weeds."
Rep. Samantha Vang (DFL-Brooklyn Center) had an amendment adopted to clarify the usage of micro farm grants that account for $2.6 million in appropriations.
Rep. Rick Hansen (DFL-South St. Paul) had an amendment adopted that would reduce the appropriation to the University of Minnesota for a study on heritage seeds from $2 million to $1 million. The other million would go to the city of South St. Paul to provide financial assistance for multicultural meatpacking businesses.
In an effort to ease concerns previously raised by Anderson, Hansen's amendment changes language prohibiting plastic-coated fertilizer and a moratorium on deer farms. The new language would push back the prohibition of the fertilizer one year; the change to the moratorium would allow for internal transfer within families.
The Senate omnibus agriculture and rural development bill, SF4019, is sponsored by Sen. Torrey Westrom (R-Elbow Lake) and awaits action by the full Senate.