Combating veteran homelessness and suicide are two key themes in a bill unanimously approved Wednesday by the House Labor, Industry, Veterans and Military Affairs Finance and Policy Committee.
Sponsored by Rep. Rob Ecklund (DFL-International Falls), HF4324, as modified by a delete-all amendment, the omnibus veterans and military affairs supplemental finance and policy bill, is to next be heard by the House Ways and Means Committee.
"I made it clear from the first day of committee that my priority as chair was going to be tackling veterans' suicide and veterans' homelessness," Ecklund said. "House File 4324 is definitely moving in that direction. I'm also proud that we're providing a reenlistment grant program for our National Guard. The guard has done a tremendous job helping the state of Minnesota come through this pandemic and get past this pandemic, if and when we ever do get past this pandemic. And I want to thank them for that."
The bill would appropriate an additional $41 million in the current biennium to the Department of Veterans Affairs with a base increase of $18.3 million in the next biennium. The Department of Military Affairs would receive $2.87 million in fiscal year 2023 and a base change of $3.42 million in each of the next two fiscal years.
[MORE: View the spreadsheet]
The Military Affairs Department would use $2 million in fiscal year 2023 and $2.5 million in following years for enlistment and reenlistment bonuses for the National Guard. The department would use $865,000 in fiscal year 2023 for holistic health and fitness programs for the National Guard.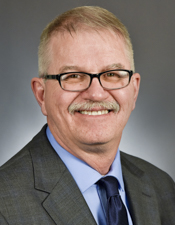 Rep. Rob Ecklund
Also, $100,000 to the department would fund activities related to the commissioning of the USS Minneapolis-St. Paul in Duluth later this year.
The Department of Veterans Affairs would use $24.9 million of its new appropriation for service bonuses to post-9/11 veterans and Gold Star families and forward $8.8 million to the Minnesota Assistance Council for Veterans to provide assistance for veterans, former service members and their families who are homeless or in danger of losing their home.
Additional funding for housing assistance would also be available via $1.71 million to support temporary housing options and $1.1 million to support tenancy and landlord engagement.
Commissioner Larry Herke noted that his department will be losing other alternative funding methods.
"I really need that component because there is going to be that group of people that are just going to need that little extra something and I won't get a potential landlord probably to take a chance on a veteran," Herke said. "But if I can demonstrate a year or more of successful rental in one of our units, then we can maybe move that veteran out and make space for another veteran coming in. So, this is very important. It's something I've never asked for before. A year ago, honestly, I didn't know I needed this. But now I know I need this to be successful and get to the functional zero for the state."
The department would also receive $2.1 million for a Minnesota Veteran Suicide Prevention Initiative. An adopted amendment from Ecklund would include outreach help on how to store firearms safely, suicide risk factors, suicide lifelines and mental health crisis services.
The bill includes developing a plan for safe storage of veteran-owned firearms for veterans in crisis.
"We're just trying to provide some opportunities to veterans in Minnesota," Herke said. "I think it's a worthy program, something we'd like to get into along with work as it relates to the outreach and providing written materials and so forth."
Another adopted amendment would redirect $800,000 to help the Veterans Campground on Big Marine Lake upgrade its wastewater system.
The Senate omnibus bill, SF3875, is sponsored by Sen. Andrew Lang (R-Olivia). It awaits action by the Senate Finance Committee.
***
What's in the bill?
The following are select bills incorporated in part or in whole into the omnibus veterans and military affairs supplemental finance and policy bill: