Policy provisions and an additional $6.54 million in fiscal year 2023 would impact regulations and enforcement in a host of areas from social media platforms, homeowner association fees, dental insurance, appraiser licenses and fraud investigations.
All are part of the omnibus commerce finance and policy bill.
Approved 10-7 along party lines Wednesday by the House Commerce Finance and Policy Committee, HF3607, as amended, is headed to the House Ways and Means Committee.
"I think we have a very good and balanced bill before us," Rep. Zack Stephenson (DFL-Coon Rapids) said during Tuesday's initial walkthrough.
[MORE: View the spreadsheet]
Rep. Tim O'Driscoll (R-Sartell) knows the committee is pushing up against Friday's final committee deadline, but hopes the Legislature would continue to address issues he sees in the bill's provisions about market conduct and the Commerce Department's fraud investigation bureau.  
"There are different things we can do to tighten up the language in a few of these things," he said.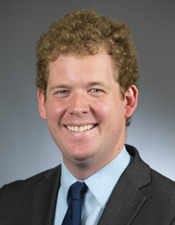 Rep. Zack Stephenson
Stephenson agrees.
"I think we're a good way there, but I'm aware that more work can be done," he said.
Before the vote, a number of amendments offered by Stephenson were added.
One would put guardrails on the Commerce Fraud Bureau to ensure it spends the bulk of its time on insurance fraud as it expands its jurisdiction into other financial crimes.
All of the bureau's funding currently comes from assessments on insurance licenses, but the omnibus bill would also have money come from the General Fund. The aim, Stephenson said, is to give the bureau another funding source so it can investigate other financial crimes such as theft by swindle, forgery or identity theft.
"We want the fraud bureau to investigate other white-collar crimes outside of insurance fraud. They're exceptionally capable, exceptionally good at it."
Other adopted Stephenson-offered amendments would: 
The companion, SF3287, is sponsored by Sen. Gary Dahms (R-Redwood Falls) and awaits action by the Senate Finance Committee.