A House Environment and Natural Resources Finance and Policy Committee that's been divided all session stayed that way Thursday as it approved its omnibus environment and natural resources bill.
Sponsored by Rep. Rick Hansen (DFL-South St. Paul), HF4492 was replaced by a delete-all amendment, further amended, and approved on an 11-8 party-line vote. Its next stop is the House Ways and Means Committee.
"We can offer a package here which fixes past problems and lays a foundation for the future," Hansen said. "Our state is changing and we're learning more."
The bill contains fiscal year 2023 supplemental budget appropriations for the Pollution Control Agency, Department of Natural Resources, Board of Water and Soil Resources and other organizations. It also includes statutory and other changes related to the environment and natural resources, including the DNR's policy and technical proposals.
[MORE: View the spreadsheet]
Two of the biggest points of debate are regulations placed on white-tailed deer farms and prohibiting perfluoroalkyl and polyfluoroalkyl substances (PFAS) in carpet and textiles, cookware, cosmetics, juvenile products and ski wax.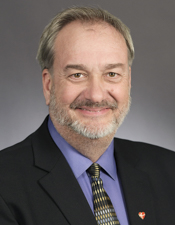 Rep. Rick Hansen
Rep. Josh Heintzeman (R-Nisswa) echoed a concern of Republicans heard in other committees, about adding to department budgets a year after funding state operations through June 30, 2023 was signed into law.
Heintzeman also noted that some provisions struck down in last year's bill have returned.
"How can we possibly expect this to go forward now, bringing back provisions that were unsuccessful, very controversial last session? Now, we have what I think I can argue is even a more controversial package of provisions," Heintzeman said.
Hansen responded: "Our responsibility to our constituents is to keep trying. If an issue is important to our constituents, and if an issue continues to get worse or better, we have a responsibility to try to address it. I can't help what the other body does. They can oppose things. They can support things. But we do have our votes here. We have an opportunity to do better. We have an opportunity to try again."
Hansen had an amendment approved that made several changes to the bill. They include more funding for counties to assist with the required reporting of registered feedlot and manure storage areas, extending the deadline for a rough fish species report, adding more funding to grants for tree replacement from impact of the emerald ash borer, and changes to the air toxics emissions reporting provision.
"The changes we've made (were) based on the public input in the public meeting two days ago," Hansen said.
Rep. Rob Ecklund (DFL-International Falls) successfully offered two amendments.
The first would add $500,000 from the all-terrain vehicle account in the natural resources fund to St. Louis County for trails in the Voyageur County ATV trail system and $500,000 to the county for trails within the Prospector trail system.
The second made technical changes for deferred payments on timber cutting permits, changing that payments can be postmarked within 30 days of the statement date to help account for delays in postal processing.
The Senate omnibus bill, SF4062, is sponsored by Sen. Bill Ingebrigtsen (R-Alexandria) and awaits action by the full Senate.