The work of four different house committees is together in one supplemental spending bill.
The omnibus jobs and economic development bill includes proposals to investigate financial fraud, support electric vehicles, fund safety training and offer child care grants using hundreds of millions of dollars in supplemental funding.
The House Ways and Means Committee on Tuesday approved HF4355, as amended, on a 17-10 party-line vote and referred the bill to the House Floor. Rep. Mohamud Noor (DFL-Mpls) is the sponsor.
Votes were cast after the committee added the omnibus labor and industry, climate and energy, and commerce bills to the package.
Paid family leave
Among jobs' bill provisions is $30 million to establish a paid family leave program which would allow up to 12 weeks of leave when a personal or family health issue keeps someone off the job. 
The House budget resolution was amended to move money for the program from other bills in the omnibus package without changing the bottom line.
Paid family leave, to be modeled after unemployment insurance, would allow new parents to bond with babies, sick people to care for themselves, or families to manage circumstances if they cannot work for more than seven days, said Noor, who offered the amendment to add the program into the omnibus bill.   
For a relatively small cost per person, the state can establish a great program workers and families, Noor said about paid family leave.
He added the state has talked about it for a long time. "This is the moment. This is the time" to pass it, he said.
Coming off a late-night floor session, Rep. Pat Garofalo (R-Farmington) was succinct, stating he was against the amendment. "Don't mistake brevity for lack of opposition," he said.
Rep. Jim Nash (R-Waconia) indicated the program would not be easy to implement. It will require more than 300 new full-time equivalent positions and software has been a giant hurdle.
Beginning as the omnibus workforce and business development bill, the final package still contains a number of those provisions and aims to ensure a more equitable recovery from the pandemic, with targeted funding for veterans, people of color, women and people with disabilities who often have been shut out of economic opportunities, Noor said.
Among the provisions in the $200 million package is the establishment of an Office of New Americans to help new immigrants join the economy.
Other funding proposals include:
$45 million for a revolving small-business loan program for people who haven't had access to capital;
$35 million for small-business recovery grant program;
$20 million for the Main Street Economic Revitalization program;
$20 million for an emerging developers fund;
$20 million for grants to local workforce boards;
$7.5 million for the Canadian border relief fund; and
$4 million for child care grants.
[MORE: View the spreadsheet]
Labor and industry
Sponsored by Rep. Rob Ecklund (DFL-International Falls), HF4177, the omnibus labor and industry bill, is focused on worker safety and workforce development.
As amended, the bill contains about $50 million in additional funding that would establish a fee holiday for people in building trades, extend a logging safety program, address OSHA penalties, facilitate apprenticeships and youth skills training programs, prevailing wage enforcement and mediation services. The bill would also beef up fair labor standards for agricultural and food processing workers.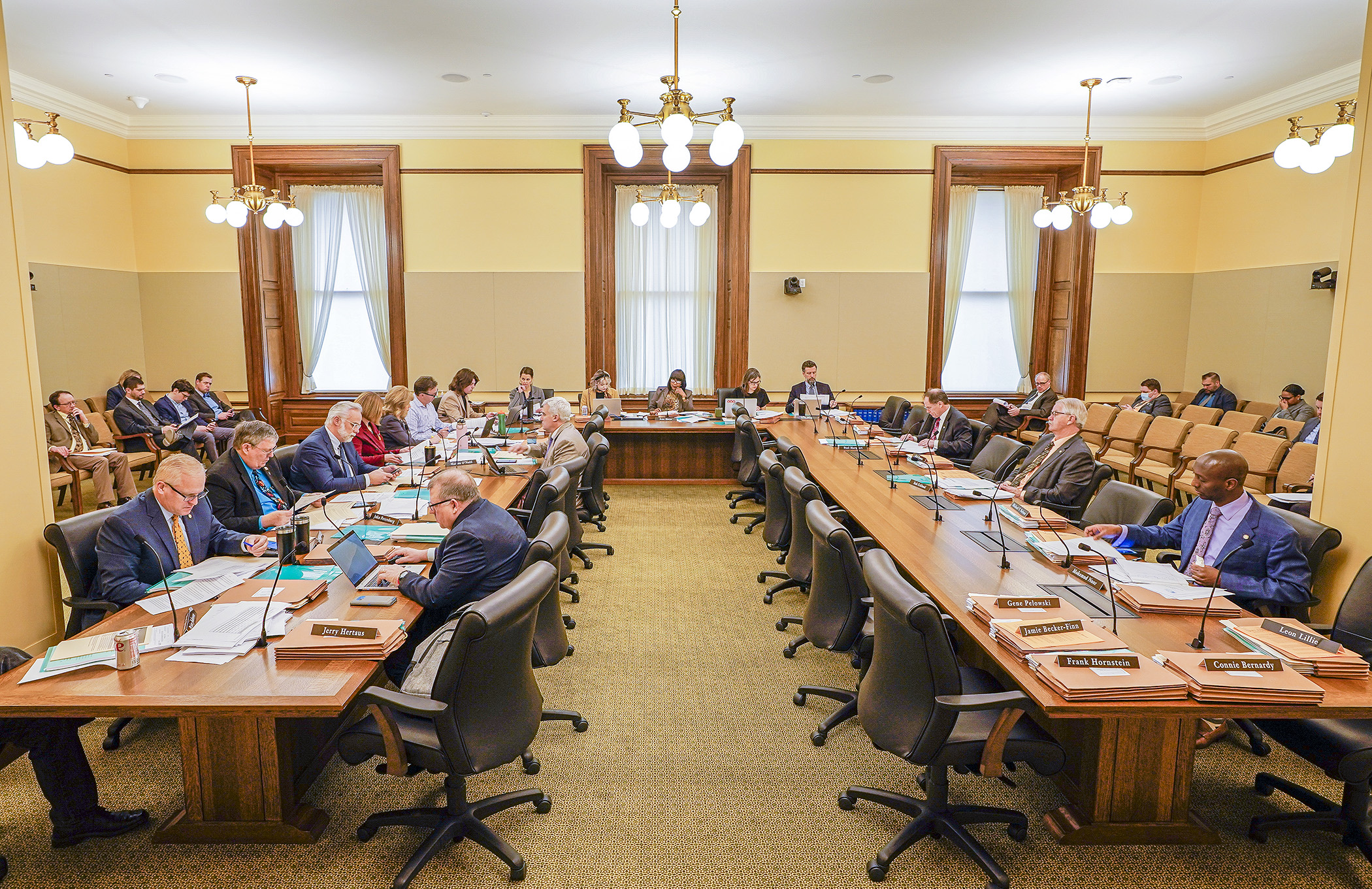 The House Ways and Means Committee meets April 26 to approve the omnibus jobs and economic development package. (Photo by Andrew VonBank)
[MORE: View the spreadsheet]
Climate and energy
The climate and energy portion of the bill comes from HF3337 and contains $120.5 million in appropriations for fiscal year 2023, its sources divided between the state's General Fund and the Renewable Development Account, a state-administered fund designed expressly for the purpose of developing renewable energy sources in Minnesota. Xcel Energy pays into it with annual fees of between $350,000 and $500,000 for each cask of nuclear waste it stores at its Prairie Island and Monticello facilities.
Of the bill's $40.2 million allocated from that fund for fiscal year 2023, it would provide $10 million to a competitiveness fund designed to unlock federal monies available via the Infrastructure Investment and Jobs Act. Among the other projects funded by the account would be:
$6.5 million for a geothermal energy demonstration project at a school in the Anoka-Hennepin School District;
$5 million in grants to businesses to develop decarbonization technologies;
$5 million in incentives for the installation of solar energy generating systems;
$4 million in incentives for installing energy storage systems;
$4 million for installing solar energy infrastructure on state facilities;
$3 million for electric buses;
$1 million for residential electric panel upgrades; and
$1 million for a solar contingency fund for St. Paul's Highland Bridge project.
The bill contains $80 million in appropriations from the state's General Fund. In addition to another $10 million for the competitiveness fund, other projects it would finance include:
$30 million for a weatherization assistance program;
$10 million for an innovative finance authority;
$5 million for an "Energy Alley" startup fund;
$4.1 million for electric vehicle charging in state parks;
$4 million to support solar projects on state infrastructure;
$3 million for the Solar on Schools program;
$3 million for local government climate mitigation grants;
$2.3 million for residential electric panel upgrades;
$2.1 million for electric vehicle charging at rest stops;
$2 million for a community clean energy transition program; and
$1 million for a weather resiliency program.
 [MORE: View the spreadsheet]
Commerce
Sponsored by Rep. Zack Stephenson (DFL-Coon Rapids), the omnibus commerce bill, HF3607, was also amended into the package. It would add $7.8 million to the base. There is also money to create a student loan advocate in the Department of Commerce to do education and outreach.
Other new funding is related to the Department of Commerce fraud bureau, including five additional peace offices. It would expand the bureau's jurisdiction to include other financial fraud. Since the fraud bureau has been funded by insurance rates, Stephenson argues the bureau should get General Fund dollars to support work outside insurance fraud.
There is also funding for an auto theft prevention program; to do a geographic ratings study for MNsure; and to several state departments for a pre-licensing program, which lets applicants know if they are eligible for a license on the front end before they go through training.
[MORE: View the spreadsheet]
Standalone omnibus higher education bill also approved
The committee also approved the omnibus higher education bill, as amended, on a 17-9 party-line vote and referred it to the House Floor.
Sponsored by Rep. Connie Bernardy (DFL-New Brighton), HF3872 would provide $100 million in supplemental funding in fiscal year 2023 and expand higher education opportunities for low- and middle-income Minnesotans with grants and help students with intellectual disabilities access college.
"Our education budget is student centered," Bernardy said. It focuses on equity, affordability, student well-being and sustainability in Minnesota's postsecondary education system.
[MORE: View the preadsheet]
The bill would lower the costs of higher education for Minnesotans and would also create a support initiative to provide grants and support services to help students who are parents or expectant parents.
It would add $3.24 million for American Indian scholarships, $1.5 million for grants to underrepresented student teachers, $731,000 for student emergency assistance, and $493,000 to the state grant program.
The companion, SF3510, sponsored by Sen. David Tomassoni (I-Chisholm), awaits action by the Senate Finance Committee.
 — Session Daily writers Rob Hubbard and Pratik Joshi contributed to this story.