By a 69-62 vote late Wednesday, the House passed its omnibus workforce, business development, climate and energy supplemental finance and policy bill.
Included in the proposed legislation is about $30 million to set up a paid family leave program.
Following the same model as the state's unemployment insurance, people could take up to 12 weeks of leave for their own, or a family member's, medical issue. There are also provisions aiming to make sick and safety leave accessible to more workers.
Rep. Mohamud Noor (DFL-Mpls) and Sen. Eric Pratt (R-Prior Lake) sponsor the bill.
The full bill addresses problems on Main Street and spreadsheets, Noor said. He called the family leave provisions a great program that will help people stay in the labor force.
"This is a game-changer for small businesses because it allows them to pool their resources to provide this benefit," Noor said.
A delete-all amendment was successfully offered by Noor to insert House language into the Senate file. Because of that the bill now heads back to the Senate for concurrence; however, a conference committee will likely be needed to reconcile the differences. The Senate passed its version 38-27 on April 26.
HF4355/SF4091* was amended to make hourly school workers eligible for unemployment insurance benefits and would appropriate $161 million for school districts to pay the benefit. This provision was part of the House version of the unemployment insurance trust fund/frontline workers legislation, but not in the final version that was signed into law last week.
"If we provide hourly school workers with the basic economic security they deserve, these Minnesotans will be able to continue supporting our students and coming back to a job they love." Rep. Emma Greenman (DFL-Mpls) said in a statement.
Rep. Anne Neu Brindley (R-North Branch) said the entire Republican caucus was against the provision, saying it's not well thought out.
"It's going to be a massive tax increase on Minnesotans," she said.
[MORE: View the spreadsheet]
Workforce
The bill would appropriate about $200 million from the state's projected budget surplus for a variety of workforce, business and community development grants with particular aim to increase opportunities for women, people of color, veterans and people with disabilities.
It includes funding for an emerging developers' fund, local workforce development boards, main street revitalization programs, small-business revolving loan programs, economic relief for Canadian border counties and grants for a COVID recovery program for small businesses, such as salons, restaurants and health clubs.
The bill would also establish the Office of New Americans and change pay for performance rules to reward placement with higher paying, longer term jobs.
"Minnesota workers are the backbone of our economy. They deserve to be safe and successful on the job, while having the ability to provide economic security for their families," Rep. Rob Ecklund (DFL–International Falls), chair of the House Labor, Industry, Veterans and Military Affairs Finance and Policy Committee, said in a statement. "… We're delivering solutions to protect fair pay, benefits, and safety measures – along with training and apprenticeship opportunities – so they can truly thrive in our state."
Commerce
Much of the supplemental funding for commerce would be to hire people for the Commerce Fraud Bureau. The bill includes provisions that would expand the bureau's jurisdiction outside insurance fraud to other financial crimes and provide some funding outside a fee on insurance rate payers.
There would also be funding to study disparities in geographic insurance rating areas.
Minnesota could be at the forefront of efforts to regulate big tech with a provision that would prohibit large social media companies from targeting content to children using algorithms.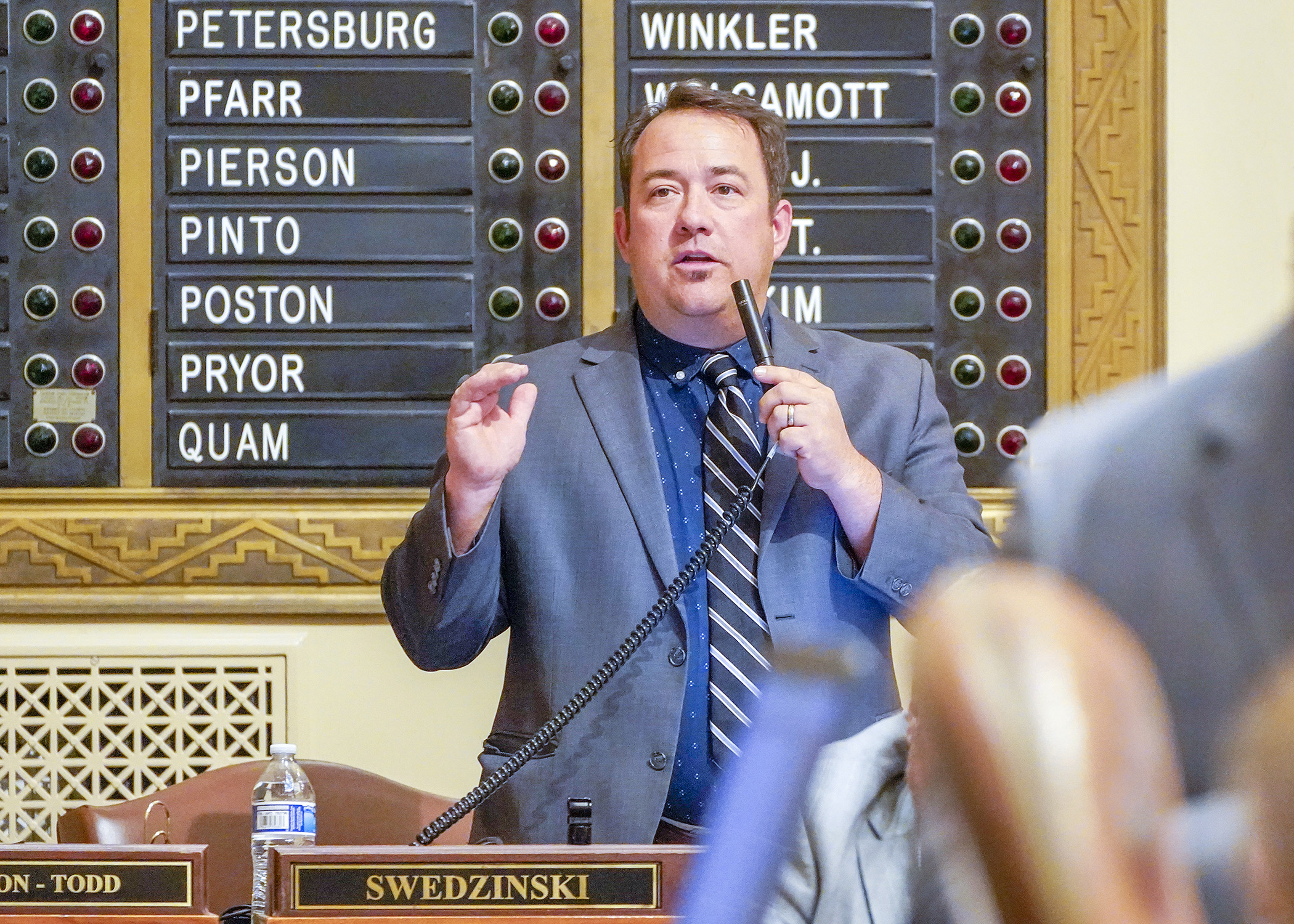 Rep. Chris Swedzinski speaks May 4 on a proposed amendment to the omnibus workforce, business development, climate and energy supplemental finance and policy bill. (Photo by Andrew VonBank)
Rep. Zack Stephenson (DFL-Coon Rapids), chair of the House Commerce Finance and Policy Committee, said the provision proposed by Rep. Kristin Robbins (R-Maple Grove) is his favorite bill of the session.
He said it would address the terrible effect social media is having on youth and help stem the tide on mental health issues, such as eating disorders.
Other provisions would establish a procedure for individuals to receive information, via a preliminary application, about whether a criminal conviction or other misconduct would disqualify them from an occupational or professional license, registration, or certificate; create a student loan advocate; let the secretary of state's office set aside liens clearly meant to harass or intimidate; offer homeowners some protections from foreclosure due to unpaid association fees; and put guardrails on transfer of structured settlements.
There is also proposed funding and policy provisions aiming to curb car and catalytic converter theft.
An amendment that would require auto dealers to permanently mark catalytic converters was also adopted.
"As members of the House, it is our responsibility to help small businesses, protect consumers, and create a fairer, safer Minnesota," Stephenson said in a statement. "Our commerce bill achieves this goal."
Labor and industry
The bill would establish an ombudsperson for agricultural and food processing workers; includes warehouse worker safety provisions requiring notice of work quotas and access to records; and the Department of Labor and Industry could investigate higher than average injury rates at a warehouse.
Other provisions would prohibit unpaid non-compete clauses, change regulations around combative sports, expand logger and refinery worker safety programs, allow franchise owners to hire from other franchisers, and set a license holiday for building contractors.
It would also make public some information around unfair labor practice complaints, including records of hearings and decisions.
Climate and energy
The climate and energy portion of the bill contains $120.5 million in appropriations for fiscal year 2023, its sources divided between the state's General Fund and the Renewable Development Account, a state-administered fund designed expressly for the purpose of developing renewable energy sources in Minnesota. Xcel Energy pays into it with annual fees of between $350,000 and $500,000 for each cask of nuclear waste it stores at its Prairie Island and Monticello facilities.
The largest outlay among the energy items is $30 million for a weatherization assistance program, followed by $20 million for a competitiveness fund designed to unlock federal monies available via the Infrastructure Investment and Jobs Act.
Programs to promote increased use of solar energy would receive over $19 million, including $8 million to support solar projects on state infrastructure; $5 million in incentives for the installation of solar energy generating systems; and $3 million for the Solar for Schools program.
In addition to allocating $15 million to create an innovative finance authority designed to fund renewable energy projects and an "Energy Alley" startup fund, $11 million would focus upon the use of electric vehicles, including $7.2 million for electric vehicle charging at parks, rest areas and county facilities, and $3 million for electric buses.
The Senate version of the bill includes some policy provisions missing from the House bill. It would abolish the prohibition on the Public Utilities Commission approving new nuclear-powered electric generating plants, set a state carbon capture policy, and create and fund a Renewable Development Account advisory group.
And it would allocate $22.5 million for energy projects, compared to the $120.5 million in the House bill.
Unsuccessful amendments
Most proposed amendments that weren't adopted were in the climate and energy sector.
They included plans that would have changed definitions and distance requirements concerning solar generating systems; required a public utility to build and operate a natural gas electric generation plant; changed requirements for the recycling and disposal of solar panels and wind turbine blades; prohibited utilities from recovering from ratepayers duties paid on photovoltaic cells from China; and established a polar vortex restitution account.
— Session Daily Writer Rob Hubbard contributed to this story