— UPDATED at 9:16 p.m.
Proposed legislation to expand access to driver's licenses in Minnesota has passed the House in the past two sessions without becoming law. But supporters, who say enacting the so-called "driver's licenses for all" law remains overdue, put the gas pedal down on those efforts again late Tuesday.   
After hearing scores of often emotional testimony from supporters, the House Transportation Finance and Policy Committee approved HF4 on a split-voice vote. It goes to the House Judiciary Finance and Civil Law Committee.
The bill would allow a person to obtain a driver's license or state identification card without showing proof of legal presence in the United States. Amended by the committee, the bill also would include data protection practices to ensure immigration status isn't shared across state agencies, said Rep. Aisha Gomez (DFL-Mpls), the bill sponsor.
House transportation committee holds hearing on 'driver's license for all' bill 1/11/23
Until 2003, residents of Minnesota did not have to provide proof of legal residence to get a driver's license. Eighteen states have in law what is being proposed.
"Minnesota needs to restore access for all residents of the state to drive regardless of immigration status. Having the ability to obtain a driver's license should be viewed as a human right and a necessity for all of our communities to be safe commuting and traveling on our roads. Parents, workers, students, and the many great folks who do so much to build our diverse economy deserve access to driving legally with a license," Rep. María Isa Pérez-Vega (DFL-St. Paul) said in a statement.
As in past years, the proposal elicited passionate arguments from testifiers in a filled Capitol hearing room and via Zoom. Supporters characterized passage as a safety, economic and moral issue.
Many shared stories of waiting hours for rides or driving to church or the doctor or the school without a driver's license in fear of being pulled over and separated from their family.
Without a license, avoiding truancy at school was ridiculously difficult and getting a job nearly impossible, said Sarah Silva.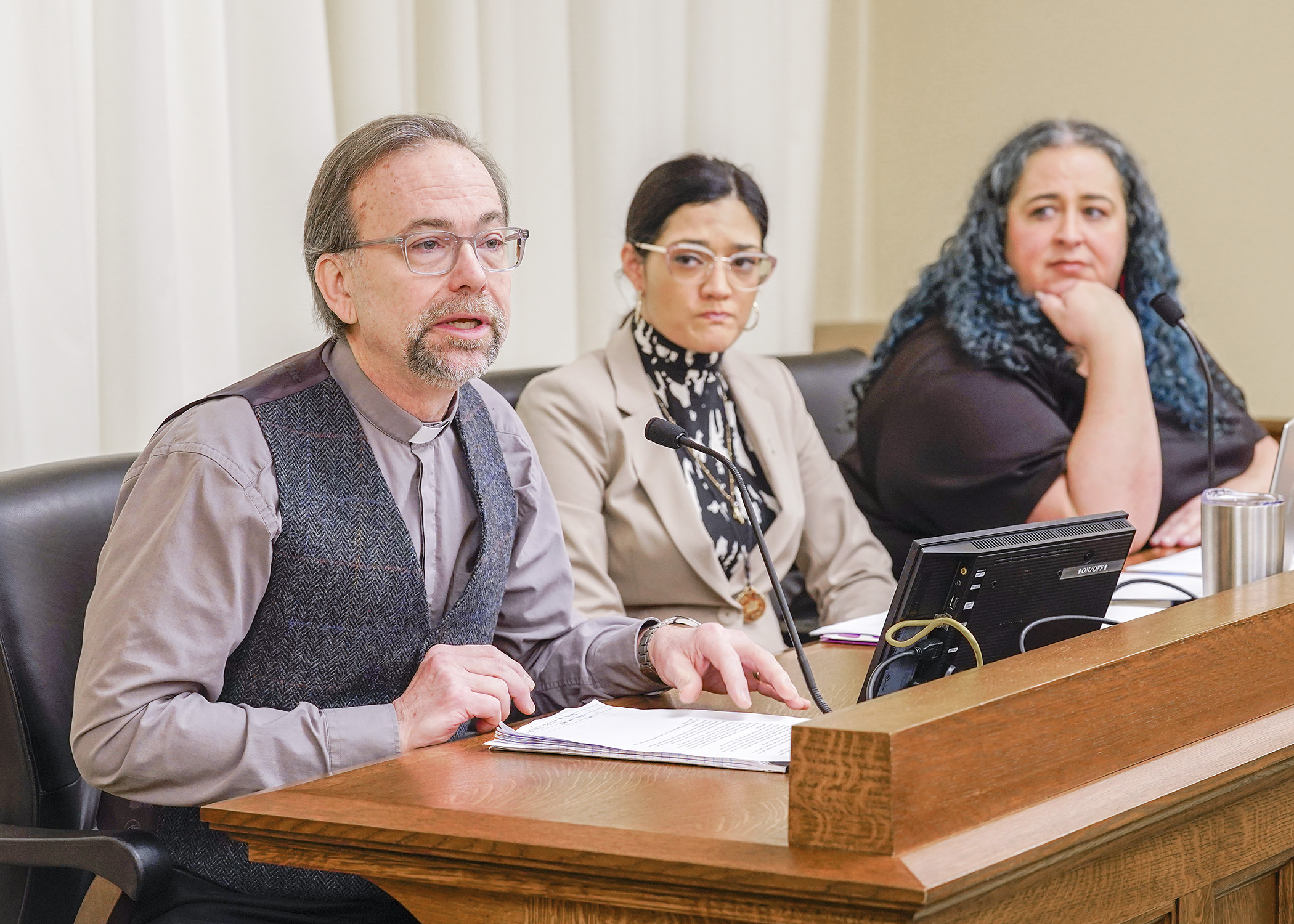 The Rev. Doug Mork, associate pastor at Holy Trinity Lutheran Church in Minneapolis, testifies Jan. 10 in support of HF4 sponsored by Rep. María Isa Pérez-Vega, center, and Rep. Aisha Gomez, right. (Photo by Andrew VonBank)
Drivers showing basic understanding of the rules of the road would improve safety for all. Opening access to insurance is another plus, Gomez said.
Stearns County Sheriff Steve Soyka said the job of law enforcement would be made easier if more people could acquire a photo identification.
Representatives of several business, agriculture and labor groups, including the AFL-CIO, the Minnesota Chamber of Commerce, the Latino Chamber of Commerce of Minnesota, and the Minneapolis Regional Chamber, also testified in support of the bill. They say immigrant and refugee communities are crucial to the state's economy and expanding access to driver's license is a practical step in addressing the state's workforce shortage.
"It's rare we have such a diverse group united in supporting a piece of legislation," said Rep. Frank Hornstein (DFL-Mpls), the committee chair. "We had business leaders, we had law enforcement and most importantly we had the people most affected."
Just like previous years, opponents argued, in part, that driver's licenses for all would encourage illegal immigration and could offer opportunities for voter fraud.
House Transportation Finance and Policy Committee - part 2 1/10/23
Shari Rendall, director of state and local engagement for the Federation for American Immigration Reform, wrote the bill would undermine the purposes and objectives of federal immigration law and "facilitates further illegal conduct."
An adopted amendment would have a combined $2.86 million in program implementation funding come from the vehicle services operating account in fiscal years 2024 and 2025, rather than the state's General Fund.
Several amendments requiring noncompliant licenses be clearly marked with statements such as "for driving privileges only" or "not for voting" or "not for benefits" were rejected. 
Rep. Nolan West (R-Blaine) said he supports expanding access to licenses and will help get it passed in the Senate but would find it difficult without such a not-for-voting marker.  
"My hope is to have solid bipartisan support for the bill, and this is the key," West said.
The bill makes no changes to voting procedures, Gomez said. "A driving license isn't a voting license; it's for driving."