"To Protect and Serve" is a common slogan for law enforcement agencies.
But "To Heal and Restore" should also be part of that equation, says Rep. Cedrick Frazier (DFL-New Hope).
He sponsors HF25, which would expand the role of law enforcement and the criminal justice system by funding more community-based crime prevention services, such as victim services programs and juvenile diversion programs. It would also provide funding for social service workers to accompany police when they respond to individuals experiencing a mental health crisis.
The bill takes "an innovative and multi-faceted approach … for the reduction, intervention, and prevention of crime," Frazier said. There is also money to increase funding for more traditional law enforcement roles that have been successful.
The House Public Safety Finance and Policy Committee approved the bill, as amended, Thursday and sent it to the House Ways and Means Committee.
The bill proposes a one-time appropriation of $280 million in fiscal year 2023:
$205 million to the Office of Justice Programs: $150 million to fund grants to community groups for crime and violence prevention and intervention and $55 million to help local law enforcement agencies establish mental health crisis response teams; and
$75 million to the Bureau of Criminal Apprehension to continue to partner with local jurisdictions to investigate violent crimes.
In addition, the BCA would get $10 million in the 2024-25 biennium to expand the work of its Use of Force Investigations Unit.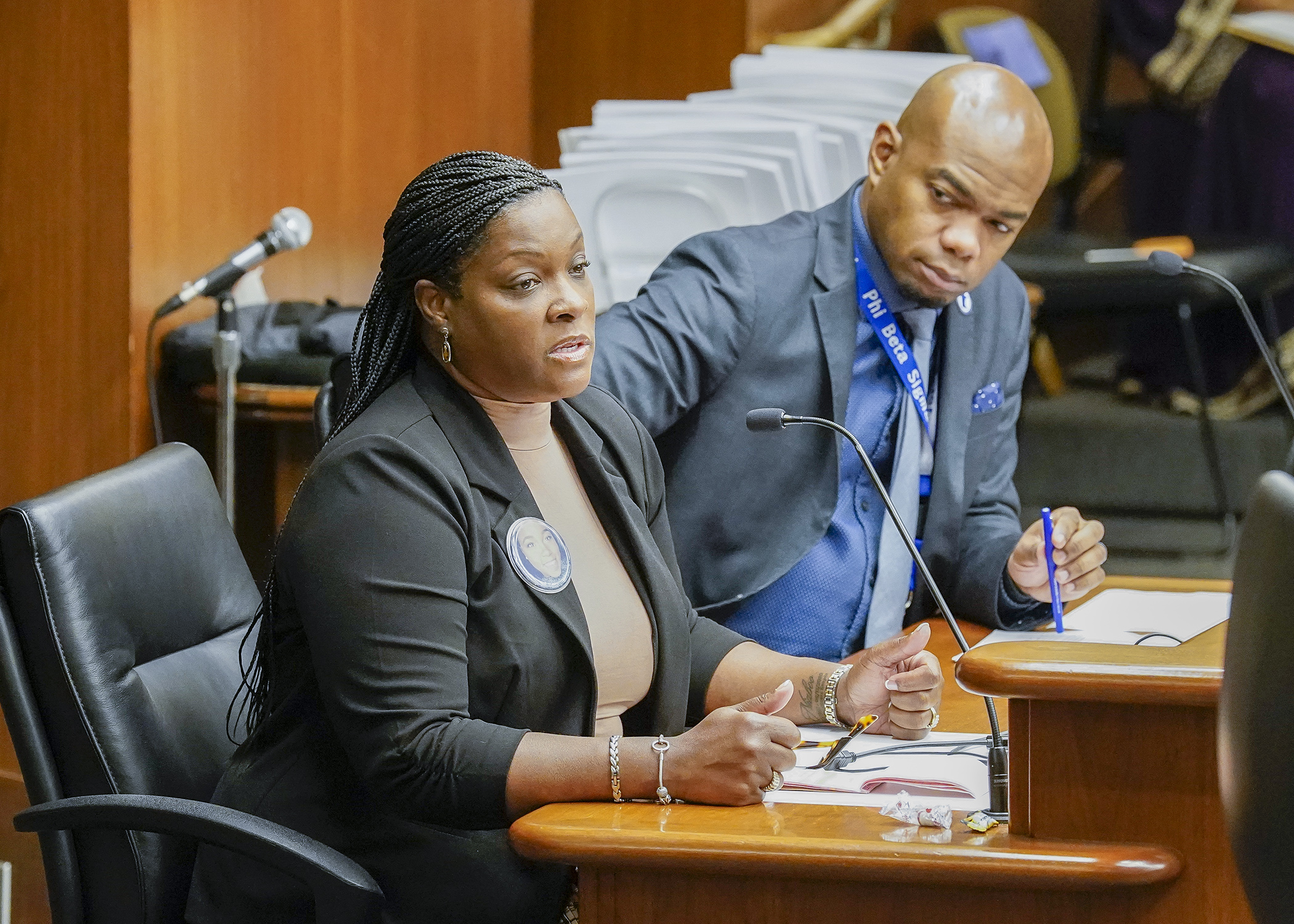 LaTanya Black, founder of Mothers Against Community Gun Violence, testifies before the House Public Safety finance and Policy Committee Jan. 19 in support of HF25, sponsored by Rep. Cedrick Frazier, right. (Photo by Andrew VonBank)
Although her work focuses on events after a crime has been committed, Hennepin County Attorney Mary Moriarty said she recognizes the most effective way to deal with crime is to prevent it from happening in the first place.
"This bill represents a historic recognition that investing in prevention and intervention will help prevent harm and save lives," she said.
Hennepin County Commissioner Irene Fernando said the county has seen great success in its recently established program to embed mental health workers with police officers responding to mental health calls.
"This is an important step to improve the response we give to people," she said. "The collaboration between public safety and behavioral health builds capacity within the emergency response system to better manage mental health-related calls."