A multitude of laws governing labor standards for workers in Minnesota's food processing and agricultural industries have lay dormant for over a decade. HF70 would make numerous substantive adjustments to this sleepy area of state law.
"These laws that we're modifying here haven't been changed in a long time. Our state has changed, our world has changed, and we need to update and evolve," said Rep. Rick Hansen (DFL-South St. Paul), the bill's sponsor.
Hansen noted his longstanding involvement in these issues – he played a key role in passing many of those statutes 16 years ago.
On Thursday, the House Labor and Industry Finance and Policy Committee approved his proposed updates on a split-voice vote, sending the bill to the House Judiciary Finance and Civil Law Committee.
The bill would amend labor law in several notable ways.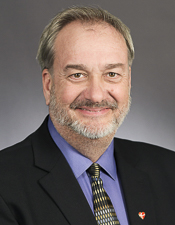 Rep. Rick Hansen
Currently, the Packinghouse Workers Bill of Rights only covers workers at meatpacking plants and only requires new employee paperwork to be provided in English and Spanish. The bill would expand the statute to include workers in poultry processing and mandate paperwork be provided in a recruit's native language.
Protections found in the Bill of Rights would also be enlarged, affirming that new workers are entitled to receive information about worker's compensation insurance at the start of employment.
These updated protections would be applied to migrant workers in the agricultural sector as well.
Fines levied by the Department of Labor and Industry and penalties handed down by court order for violating the terms of these employment standards would also be increased.
United Food and Commercial Workers Local 1189, which represents food processing workers across the state, signaled its strong support of the measure with both written and oral testimony. The union believes the bill is needed to ensure worker safety because of increased slaughter rates and employee diversity in recent years.
But not everyone is on board.
Noting he had worked on issues related to meat processing at the federal level, Rep. Isaac Schultz (R-Elmdale Township) expressed alarm that the bill would hurt the state's ability to remain competitive in the industry.
"We need to ensure we have a competitive marketplace to do this, so that we are not increasing those costs for producers to send this meat to another state … where Minnesota workers don't benefit," Schultz said.