Pharmaceutical companies having monopoly control over prescription drugs have free reign to jack up their prices with no repercussions.
So says Rep. Zack Stephenson (DFL-Coon Rapids), who sponsors HF17 that would try to change that by establishing a Prescription Drug Affordability Board to identify when a drug company makes an excessive price increase. The attorney general would be empowered to take drug companies to court when they do.
The bill would only regulate the prices of generic or off-patent drugs, and not brand-name drugs, due to pending federal court cases, according to Stephenson.
The House Commerce Finance and Policy Committee approved the bill, as amended, Monday and sent it to the House Judiciary Finance and Civil Law Committee.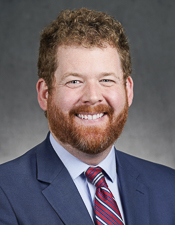 Rep. Zack Stephenson
Stephenson said he is heartbroken when he hears about parents doing whatever it takes to get the drugs that will keep their children alive, older people having to choose between paying their mortgage or buying their prescription medications, and people who must ration their medications.
"If you need a drug to live, you don't have the power to bargain with the pharmaceutical company," he said.
The crux of the problem is the monopolizing control drug companies have over prices they charge for their medicines.
"We should recognize that this is a different type of marketplace and that consumers should have special protection," he said.
Bob Miller, who was diagnosed with multiple sclerosis almost 20 years ago, is one of the estimated 40% of Americans living with MS who have altered their use of medications due to their high cost.
His prescribed drug would cost him more than $10,000 per year, but he stopped taking it seven years ago because he couldn't afford that.
His doctors told him he was "rolling the dice" with his health, but he said he had no choice because he lives on a fixed income.
"Luckily, I haven't had a relapse in those seven years, but I don't know what the future holds," he said. "Medications cannot improve the lives of people if they cannot afford them."
Excessive price increases that would trigger possible investigations would include a 15% increase in a wholesale price in a preceding calendar year, or a 40% increase over a wholesale price over three immediately preceding years.
It would not be a violation for a wholesale distributor or pharmacy to increase the price of a generic or off-patent drug if the increase is directly attributable to additional costs imposed by the manufacturer.
Several Republicans voiced concern, as did the Medical Alley Association, Center of the American Experiment, and Association for Accessible Medicines.
Rep. Anne Neu Brindley (R-North Branch) said similar legislation enacted in four other states has failed to temper high drug prices.