DFL legislators continued their efforts to safeguard reproductive health care Thursday.
Sponsored by Rep. Esther Agbaje (DFL-Mpls), HF366 would, in part, protect patient health records and prohibit enforcement of certain judgments, extraditions and arrests for acts in other states relating to reproductive health care.
The House Health Finance and Policy Committee approved the bill, as amended, and referred it to the House Judiciary Finance and Civil Law Committee.
Agbaje and supporters say it is critical to protect patients, providers and those coming to Minnesota seeking health care.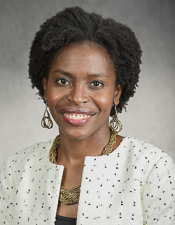 Rep. Esther Agbaje (DFL-Mpls)
"We simply cannot allow other states' dystopian and draconian laws to harm people here in Minnesota. It also protects people from being arrested in Minnesota under other state's restrictive reproductive health care laws," said Sen. Kelly Morrison (DFL-Deephaven), who sponsors the companion, SF165.
Providers would be protected through the bill by prohibiting disciplinary action against health care professionals for providing reproductive health care services that are lawful in Minnesota.
Privacy, too, is part of the package.
Even if another state tries to enforce a law that restricts or penalizes abortion access, the bill specifies the other state's subpoena or court order for an investigation would not gain authorization to a patient's health records. Only consent from the patient or their representative would authorize release.
"Further, the bill protects Minnesotans from laws encouraging citizens to sue individuals for providing or helping someone obtain abortion care and allows anyone sued in another state under one of these laws to countersue in Minnesota to cover any costs affiliated with that case," Agbaje said.
The Board of Medical Practice would be prohibited from refusing to grant a license or registration to perform interstate telehealth services or imposing disciplinary action only because the physician provided lawful reproductive health care services in Minnesota.
"I'm wondering why we're not trusting the board to make a decision on their own in this matter," said Rep. Danny Nadeau (R-Rogers).
He called it hypocritical to predetermine the discipline of licensed professionals when other reproductive health bills offered this session have stressed the importance of politicians getting out of the doctor's office.