Criminal background checks are common during pre-employment investigations of a job seeker's past.
Such checks are especially important when an applicant is applying to become a peace officer in the state, says Rep. Brion Curran (DFL-Vadnais Heights).
Curran, a former police officer, wants to make these checks better at identifying applicants who should never be given the extraordinary powers that peace officers have.
She sponsors HF823, which would require law enforcement agencies to conduct a criminal history background check on peace officer candidates through the Bureau of Criminal Apprehension. And the BCA would be required to forward the results to the Board of Peace Officer Standards and Training, which licenses officers in the state.
State law doesn't require those two steps, which Curran said are potentially "quite disastrous" omissions.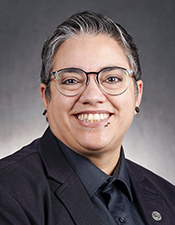 Rep. Brion Curran
The House Public Safety Finance and Policy Committee approved the bill Tuesday and sent it to the House Judiciary Finance and Civil Law Committee.
The bill would further require the BCA to search an applicant's criminal history by searching the FBI's national criminal records repository and share the results with the POST Board.
Federal rules prevent employers or potential employers from disclosing federal background check results with licensing agencies because they are not considered criminal justice or law enforcement agencies, said Erik Misselt, executive director of the POST Board.
This hinders the board in fulfilling its mission of protecting the integrity of our peace officer licensing system and the safety of the public, Misselt said.
A similar Curran-sponsored bill was also approved and sent to the judiciary committee.
HF822 would require local law enforcement agencies to share with the POST Board any information on an officer the board is investigating for misconduct. This would occur even if the officer under investigation has resigned or was discharged from the local agency and regardless of whether the officer was criminally charged.
Information proposed to be submitted would include "any pending or final disciplinary or arbitration proceeding, any settlement or compromise, and any investigative files including but not limited to body worn camera or other audio or video files."
Under current law, chief law enforcement officers are only required to submit an annual report to the board with summary data regarding the investigation and disposition of cases involving alleged peace officer misconduct such as the total number of investigations and the number that were dismissed.
"This bill doubles down on the confidence that we have in the majority of Minnesota's peace officers who sacrifice so much for our daily peace and our safety," Curran said.