Ever show up on the first day of a new job and been asked to sign a piece of paper promising not to work for the competition if you leave the company?
These agreements are known as a covenant not to compete, and under the terms of HF295, most of them would become unenforceable in Minnesota.
Rep. Steve Elkins (DFL-Bloomington), the bill's sponsor, noted that in the last decade these agreements have become much more prevalent in both a variety of fields and along every rung of the income ladder.
"When I was first starting my career, I worked for five different airlines setting airfares in succession. And in today's world, I could never have had that kind of a career because each one of those five airlines would have said that, no, you can't go to work for another airline," he said.
The House Labor and Industry Finance and Policy Committee approved the bill Tuesday on an 8-4 party-line vote and sent it to the House Commerce Finance and Policy Committee.
House labor committee hears HF295 1/31/23
Mary Hogan, a senior policy analyst with the Federal Reserve Bank of Minneapolis, testified there are an estimated 350,000 workers in Minnesota currently laboring under non-compete covenants. The vast majority of these would be rendered void and unenforceable if the proposed legislation becomes law.
Only one exception is provided for in the bill and there are two pieces to it.
An employer could enforce a non-compete covenant if an employee was earning an annual salary equal to or above the median family income for a four-person family in Minnesota, as defined by the census, before termination. The employer would then have to pay that former employee at least 50% of their former salary on a pro rata basis for the entire duration of the non-compete period.
While non-competes have historically been tied to well-paid executives and the tech sector, they have become increasingly common among low-wage workers in all industries. An estimated 12% of workers earning less than $20 per hour nationwide have signed a non-compete, according to Hogan. She stressed that non-competes negatively harm these workers, as "they are in a weaker position when seeking better wages and working conditions."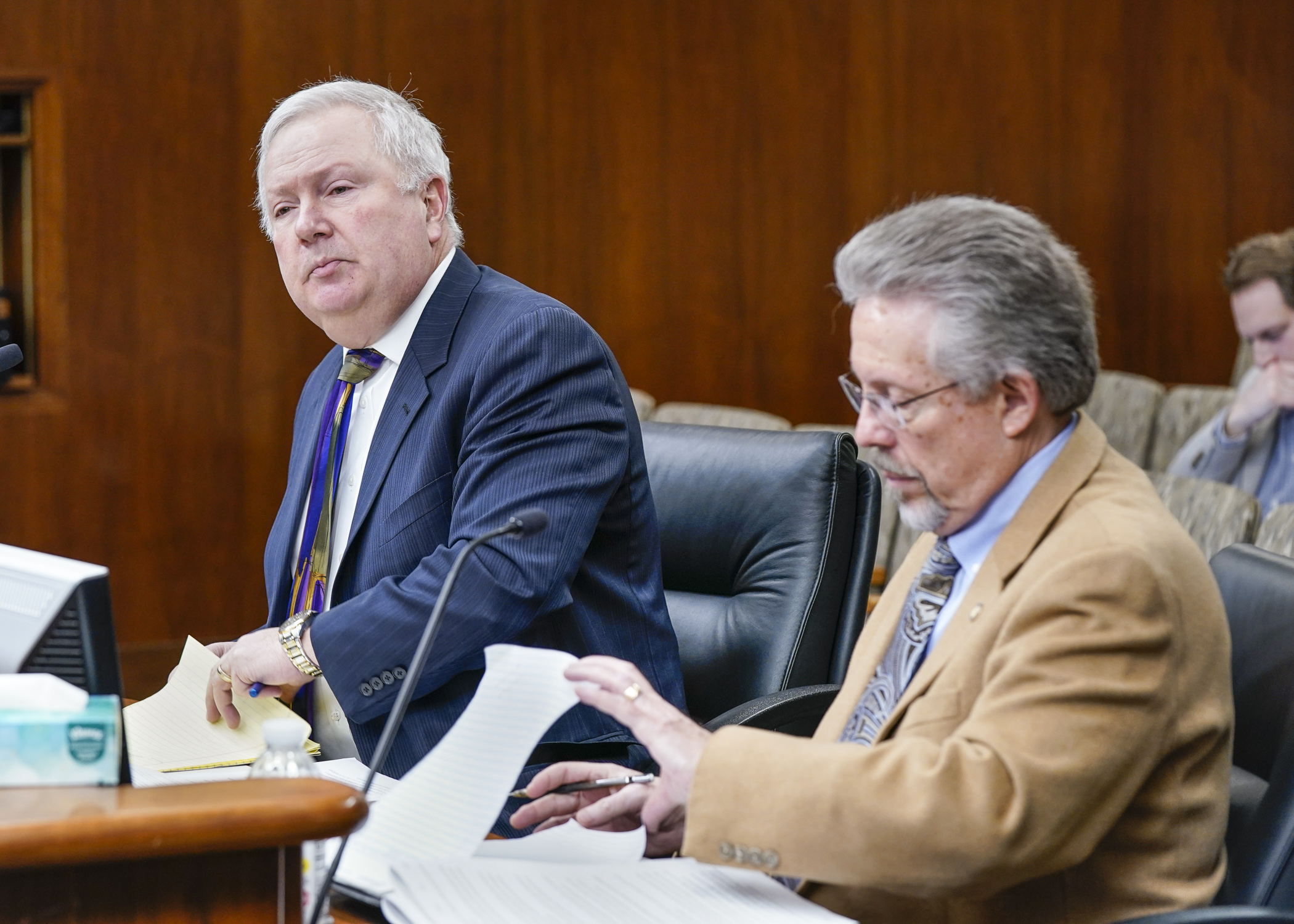 Employment and Labor Attorney Kurt Erickson discusses his concerns about HF295 with the House Labor and Industry Finance and Policy Committee Jan. 31. (Photo by Catherine Davis)
Kurt Erickson, a Minneapolis employment attorney, questioned the necessity of the bill, claiming it is a "solution looking for a problem." Highlighting his experience of 15 years of non-compete covenant litigation, he stated that he had never seen a non-compete enforced on a low-wage worker. He also referenced the blue pencil doctrine, which provides for a court to modify an existing non-compete if it is found to be onerous for the worker.
Rep. Andrew Myers (R-Tonka Bay) took exception to the bill's potential impact on entrepreneurship in Minnesota, while Rep. Joe McDonald (R-Delano) questioned if the measure would damage a company's ability to protect its trade secrets.
Elkins insisted that the stringent enforcement of non-competes actually hinders Minnesotans from founding start-ups, and that trade secret protections would be better served by non-disclosure or confidentiality agreements.
In a gesture of goodwill to opposition concerns, Elkins also noted he took Erickson's business card and would potentially implement some of the lawyer's more nuanced suggestions in a future engrossment of the bill.