Increasing access to homeownership by prohibiting certain corporations, real estate developers and residential building contractors from purchasing single-family homes to rent is the idea behind a bill garnering committee approval.
"As we've discussed multiple times in this committee, homeownership in Minnesota is something that continues to be out of reach for many Minnesotans of color and many working-class Minnesotans," said Rep. Esther Agbaje (DFL-Mpls), the sponsor of HF685.
"The reasons are varied from the lack of supply to high cost of housing to discriminatory practices in the market and, of course, corporate ownership of single-family homes."
She believes the bill would remove barriers to the "American Dream" so more people can afford homes.
House Housing Finance and Policy Committee hears HF685 1/31/23
On Tuesday, the House Housing Finance and Policy Committee approved the bill with an 8-5 party-line vote, referring it to the House Judiciary Finance and Civil Law Committee.
The bill offers limited exemptions to its restrictions.
These include charitable corporations, made up of five family members or fewer, or consist of a family trust. Qualifying corporations, real estate developers or contractors would need to request an exception from the Housing Finance Agency.
Exemptions could be granted "if the exemption would not preclude the goal of preservation and owner-occupied homeownership," Agbaje said.
The attorney general's office would prosecute violators, providing one year to divest from the property. If the violating entity does not divest, the property would be sold through a foreclosure.
Supporters cited poor rental conditions from corporate ownership, particularly out-of-state investors.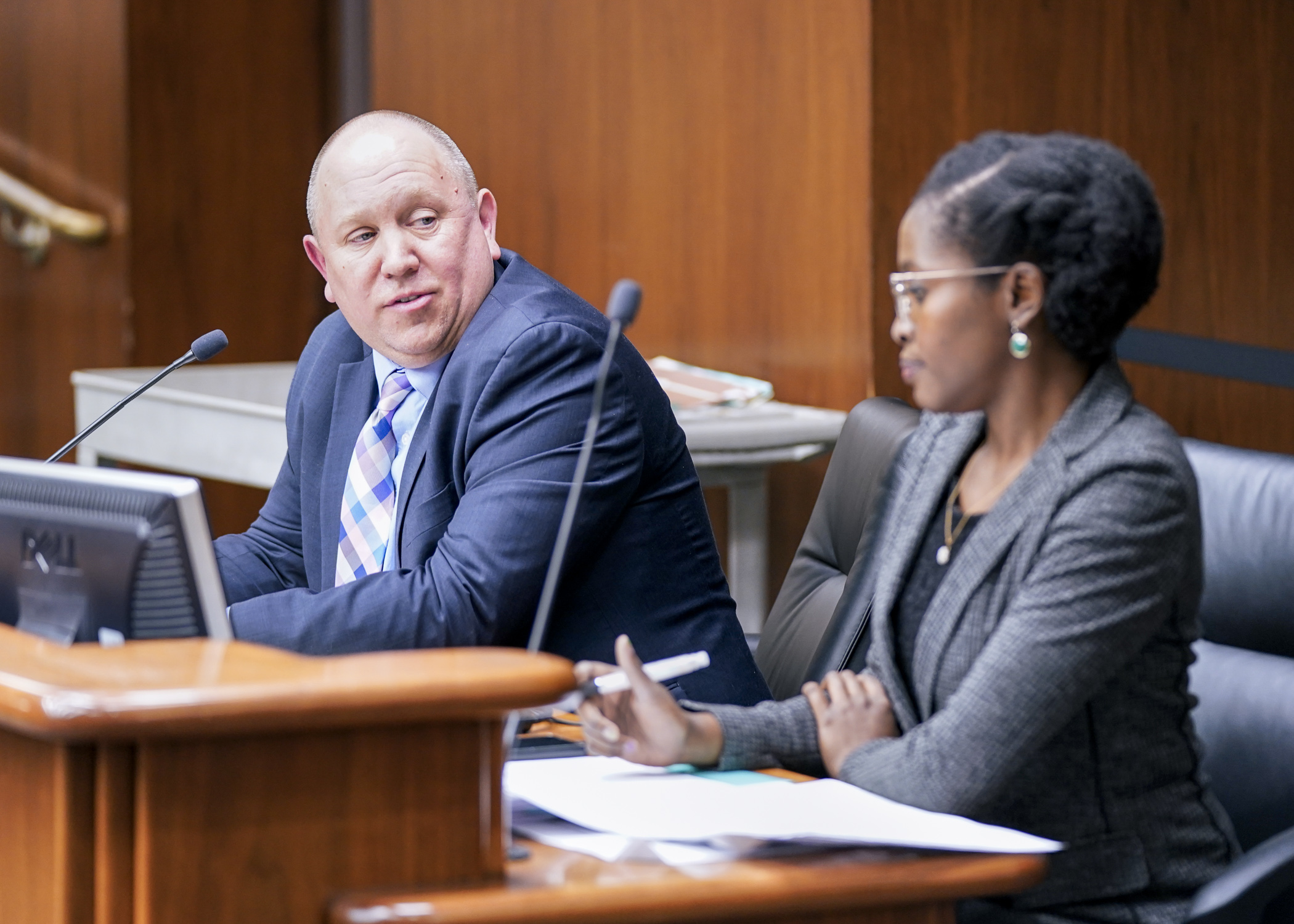 Paul Eger, senior vice president of governmental affairs for Minnesota Realtors, voices concerns with HF685 before the House Housing Finance and Policy Committee Jan. 31. The bill is sponsored by Rep. Esther Agbaje, right. (Photo by Catherine Davis)
"These corporate landlords often don't live in the community, thus not caring about building it up and ensuring that these neighborhoods thrive," said Temi Ogunrinde, equity and engagement director at Urban Homeworks.
She said corporations frequently attempt to maximize profits by raising rent without properly maintaining the property.
However, opponents reminded legislators about housing shortages and changes in market conditions.
"What may seem like a reasonable market intervention today, could present a barrier to innovation or the ability to respond to changing market conditions tomorrow," said Paul Eger, senior vice president of governmental affairs for Minnesota Realtors.
Instead, he suggested other solutions like removing barriers to housing development, increasing resources for down payment, ensuring reasonable homeowner property taxes and regularly updating relief programs.