In the never-ending battle against noxious weeds, county agriculture inspectors are the boots on the ground. They enforce noxious weed laws, educate the public, train city and township officials, manage biological control programs and take the lead in problematic cases.
Given the important role they play, state support is warranted, said Rep. Paul Anderson (R-Starbuck), the sponsor of HF80 which would appropriate $1 million annually for county ag inspectors. An amended version of the bill was laid over Thursday by the House Agriculture Finance and Policy Committee for possible omnibus bill inclusion.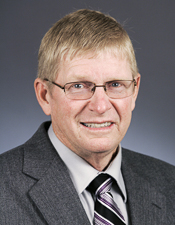 Rep. Paul Anderson
Dedicated funding for county agriculture instructors allows proactive rather than reactive prevention programs to protect Minnesota's resources from noxious weeds and invasive plants, officials from the Minnesota Invasive Species Advisory Council wrote.
To be eligible for grant money, counties would have to employ a trained inspector who annually attends a course of the Minnesota Association of County Agricultural Inspectors, conducts training for local weed inspectors, and submits a noxious weed report to the Department of Agriculture.
During testimony at the committee's meeting one week ago, Jon Bloemendaal, an inspector in Murray County, said agriculture inspectors have more than 10,000 contacts with landowners each year and play a key role in enforcement of Minnesota's ever-expanding noxious weed laws.
The list of noxious weeds grew from a dozen to more than 50 weeds in the past 15 years.
The list includes the virulent Palmer amaranth, which was called a game-changer by Mark Abrahamson, director of the Agriculture Department's Plant Protection Division. He said it's one of the most harmful weeds to corn and soybeans; its introduction to Minnesota has been slowed but won't be stopped.
County ag inspectors also partner with the Agriculture Department on seed certifications, tracking invasive pests and tree diseases, and pesticide applicator testing.