Authorizing the Department of Natural Resources to buy or sell land has historically been noncontroversial and routine. But the 2022 legislation was in an omnibus bill that failed to make it into law.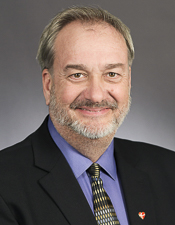 Rep. Rick Hansen
Rep. Rick Hansen (DFL-South St. Paul) hopes the House gets back in the habit of passing an annual lands bill. He's part of the way there this year.
Hansen sponsors HF50, which includes provisions from last year's proposal. It was passed 128-0 by the House Thursday and now goes to the Senate.
Several sections would authorize the DNR to divest small parcels that are too isolated, cut off from other DNR managed land or no longer have a use. The amount of land ranges from less than one acre to nearly 60 acres. Some are private sales, some public. Proceeds are estimated at $1.6 million.
Other provisions in the bill would:
allow the DNR to waive application fees for preparing an easement when the transfer of land benefits the DNR or another division; 
add 11.5 acres to Myre-Big Island State Park in Freeborn County;
designate land from Cloquet Valley State Forest as part of Riverlands State Forest;
allow St. Louis County to deposit the proceeds from the sale of tax-forfeited lands into a land acquisition trust fund; and
clarify that some state leases are permitted even when they don't apply to recreation trails.
Hansen suggested the House will see another lands bill later this session to get back on course to passing annual lands bills.