If a high-level crime occurs in parts of the state, the local county attorney's office can be looking for more advanced knowledge — or simply an extra hand — to aid in the prosecution.
A bill on its way to the governor would provide additional assets to a constitutional office to help.
Sponsored by Rep. John Huot (DFL-Rosemount) and Sen. Erin Murphy (DFL-St. Paul), HF29/SF33* would provide $269,000 in the current fiscal year and $2.02 million in each of the next two fiscal years to the Office of the Attorney General "for enhanced criminal enforcement and related initiatives." The funding is expected, but not required, to fund seven full-time equivalent attorneys and two full-time equivalent legal assistants.
The bill was passed 73-55 Monday, one week after Senate passage occurred via a 35-32 vote.
"It's not a yes to the AG's office; it's a yes to victims; it's a yes to communities; it's a yes to people who are looking for justice," Attorney General Keith Ellison said before members got together.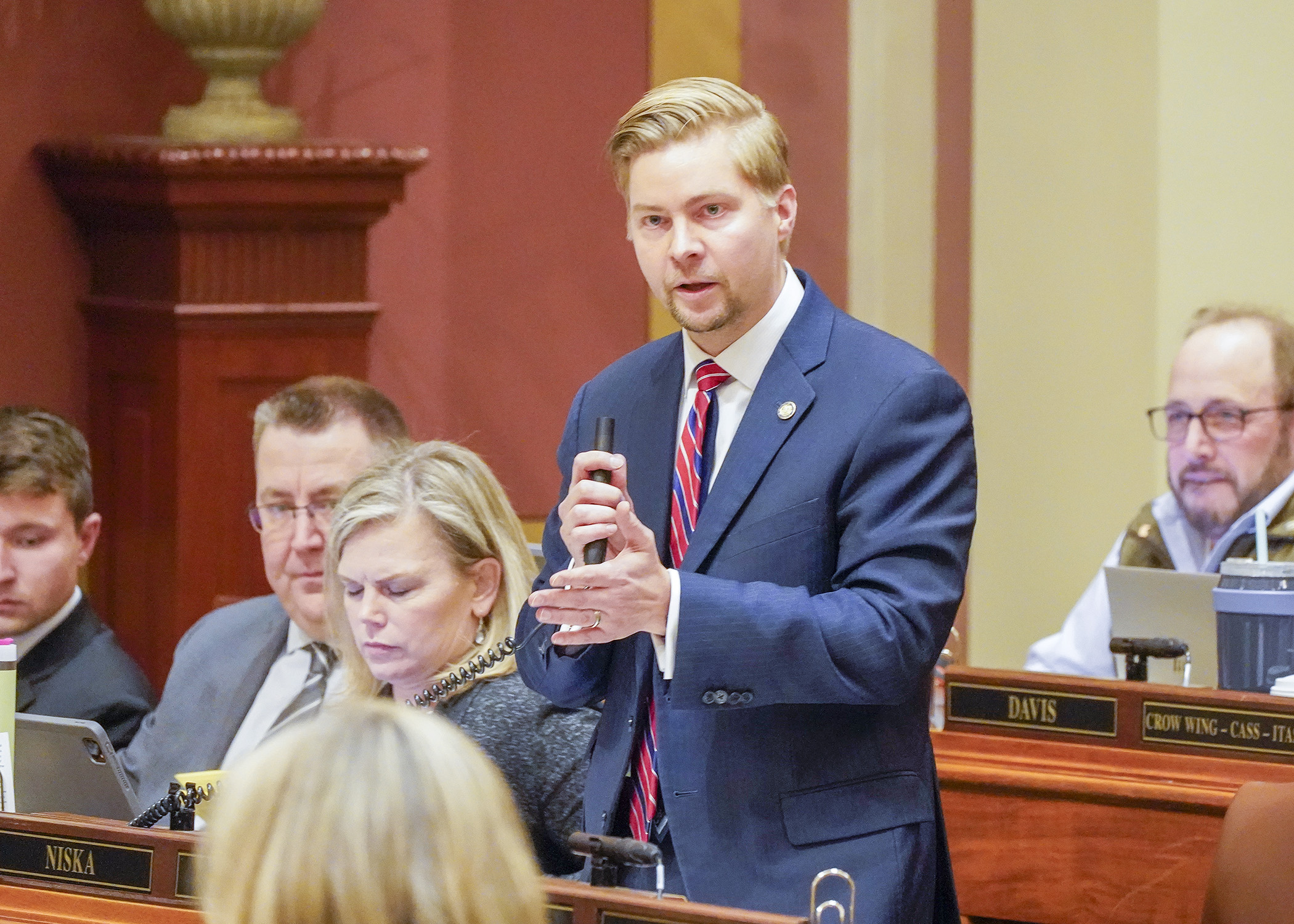 Rep. Harry Niska speaks to an amendment unsuccessfully offered to SF33, a bill that would appropriate money to the Office of the Attorney General to further help local county attorneys. (Photo by Andrew VonBank)
"We're backlogged. We need to hire people," Huot said. Ellison hopes to have new hires on board within the next couple of months.
[WATCH: Pre-session House DFL news conference]
While a county attorney office in the state's most populous areas can have myriad legal eagles, the numbers are much different in more rural areas. Ellison said about 44 of the state's 87 counties have three or fewer county attorneys.
Yet, in addition to their regular everyday duties across a variety of issues, these attorneys are expected to handle cases throughout the legal spectrum, including complex, high-level crimes such as murder, sexual misconduct, arson, human trafficking, drug operations and financial crimes. And unlike the larger county offices, these smaller offices often do not have lawyers who practice in such specific areas.
State statute specifies the attorney general's office as the backup prosecutor for all county attorneys. But that assistance must be requested.
County attorneys have been asking for this, said House Majority Leader Jamie Long (DFL-Mpls). He estimates 70-80 additional cases could be added with the requested funding.
House debates $4.3 million for MN Attorney General's office to assist county attorneys 2/6/23
"We stand ready to assist," Ellison said.
Rep. Harry Niska (R-Ramsey) unsuccessfully offered an amendment to require an annual report to the Legislature on assistance requests, response to each request and an explanation for why any requests were denied.
Republicans also unsuccessfully offered or withdrew amendments specifying crimes for which additional hires should focus, including "violent crimes and crimes that financially harm consumers and businesses," "organized gang crime, organized drug crime, and organized retail theft," and "investigation and prosecution of waste, fraud, and abuse in government;" and to ensure funding is only for enhanced criminal enforcement, not the vague "related initiatives."