Civil legal aid lawyers represent low-income clients in non-criminal legal matters, however, they can now only provide legal representation for 45% of Minnesotans asking for help.
"This is unacceptable," said Dori Rapaport.
Rapaport, executive director of Legal Aid Service of Northeastern Minnesota, said civil legal lawyers have an annual starting salary that is thousands of dollars less than colleagues in the private sector. Their annual turnover rate reached 24% in 2022.
She spoke Tuesday to the House Judiciary Finance and Civil Law Committee in support of HF286 that would appropriate an additional $27.58 million in fiscal year 2024 and nearly $41.94 million in fiscal year 2025 for the civil legal services program.
The committee approved the bill, as amended, and sent it to the House Ways and Means Committee.
The appropriations would allow legal aid organizations to increase the average starting salary for staff attorneys from the current annual salary of $56,362 to $70,000 in fiscal year 2024.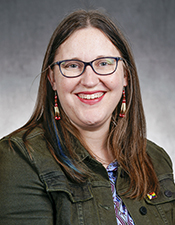 Rep. Jamie Becker-Finn
Rep. Jamie Becker-Finn (DFL-Roseville), the bill's sponsor, said it would also establish a base of $60.8 million in fiscal year 2026 and $84.2 million in fiscal year 2027.
That funding would put the 26 nonprofit organizations across the state providing civil legal services on track to providing full services to clients in six years, Becker-Finn said.
She said fully funded civil legal services are an investment in improving all aspects of society. When people are not evicted and don't lose their jobs or children because of that, public safety is enhanced and the state ultimately saves money.
Kevin Swanberg, a student lawyer at Legal Aid Service of Northeastern Minnesota, said he helps clients with evictions and housing matters. These people are in crisis mode and desperately seeking help navigating a complicated legal system designed for lawyers and not laypersons.
"I attend housing court and provide advice, counsel, and representation to people who are drowning, losing their homes, their safety is threatened -- and we try to throw them a lifeline," he said.
Swanberg said the hardest — and most heartbreaking — part of his job is telling people his organization does not have the capacity to represent them.
"We have to choose the most critical cases, the cases that have the most merit, and tell people who also have very fair legal claims that they will have to go it alone," he said.