Much like the results of voters who cast a ballot for their representative three months ago, a vote to update state election laws was close Wednesday.
And, like Election Day, it went in favor of the DFL.
Via an 8-5 party-line vote, HF3, with a delete-all and one other amendment, was approved by the House Elections Finance and Policy Committee. Its next stop is the House Transportation Finance and Policy Committee.
Rep. Emma Greenman (DFL-Mpls) sponsors the bill she said responds to the "urgent and overdue" needs to make the state's election system — from election administration to campaigning to registration to security — more focused on Minnesota voices.
House Education Finance Committee 2/8/23
"The Democracy for the People Act is a comprehensive democracy bill that invests, protects and strengthens Minnesota's best traditions of voter participation, election administration, transparency in government and grassroots, people-powered democracy," she said. "This package of common-sense solutions rests on the simple premise that our state works best when Minnesotans' voices are at the center of our democracy."
Added Rep. Nathan Coulter (DFL-Bloomington): "The more that we can do to encourage, incent, remove barriers to ensure that everybody who can be a voter is, the more reflective our elections will be of our state."
Bill provisions include:
automatic voter registration; 
establishing standards and procedures for multi-lingual election resources, including translation services at a polling place;
toughening voter intimidation laws; and
updating disclosure laws so Minnesotans better understand who is trying to influence their vote.
"There's been an explosion in spending by outside groups, independent expenditures that are not accountable to voters or candidates, and in many cases voters and candidates may not know who's funding them at all," Greenman said.
For example, the bill would restrict certain political activity by foreign-influenced corporations, such as making contributions to a candidate or their principal campaign; making contributions to a political committee, fund, or party unit; or making contributions to promote or defeat a ballot question.
Jeff Sigurdson, executive director of the Campaign Finance and Public Disclosure Board, said $53 million was spent in Minnesota for the 2022 election, a rather "explosive growth" over prior years. That does not include groups not registered with the board.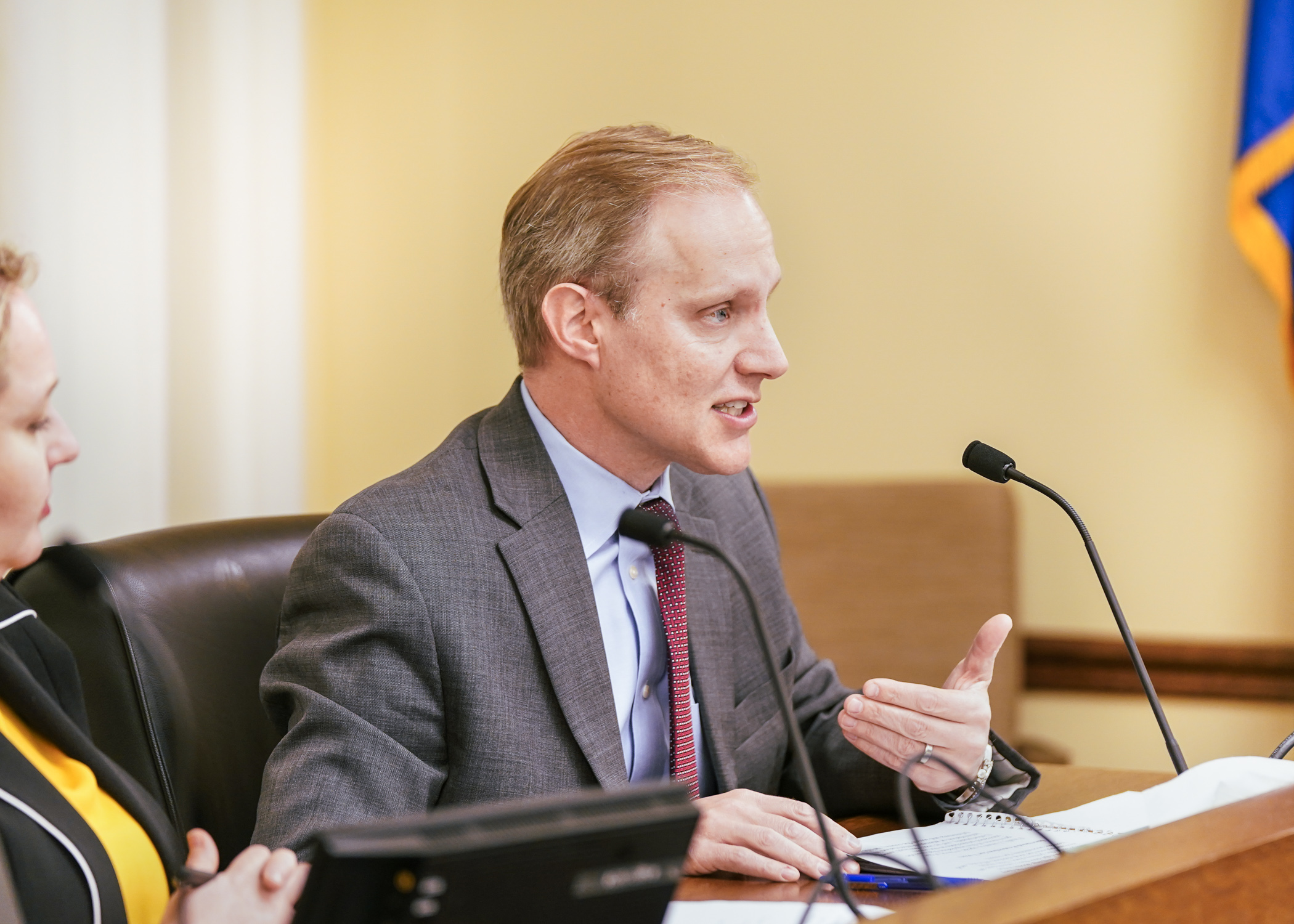 Secretary of State Steve Simon testifies before the House Elections Finance and Policy Committee Feb. 8 in support of HF3, which would, in part, expand ways for voter registration. (Photo by Catherine Davis)
To help, the bill would expand the statutory definition of "expressly advocating" to include types of political communication that do not use words or phrases that clearly express advocacy, such as "vote" or "vote against."
Via automatic registration, an applicant for a new driver's license or renewal, instruction permit, or state identification card would be registered to vote unless they opt out.  
Secretary of State Steve Simon said calling it "automatic" is a misnomer because an applicant will still be screened to ensure voting eligibility. However, he believes the change would reduce same-day voter registration by 80%-90%, thereby helping poll workers.
Rep. Matt Bliss (R-Pennington) unsuccessfully offered an amendment that only applicants seeking an enhanced driver's license or Real ID, which requires proof of citizenship or proof of legal residency, would be eligible to also register to vote.