Many students in Minnesota are losing touch with the heritage of their parents and grandparents. Or they're struggling in school due to a lack of English proficiency. HF1137 is an attempt to provide a corrective for both dilemmas through the expansion of heritage language and culture teachers in the state's schools.
"Multilingualism is an asset to Minnesota's K-12 students," said Rep. Samantha Sencer-Mura (DFL-Mpls), the bill's sponsor. "This will expand opportunities for school districts to demonstrate their commitment to equity, diversity, and inclusion."
The House Education Policy Committee approved the bill Wednesday, sending it to the House Education Finance Committee.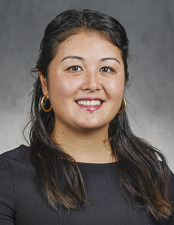 Rep. Samantha Sencer-Mura
As defined in the bill, heritage language and culture teachers are "teachers with a connection to a community's language and culture who use this connection to support students as they learn academic content or the language and culture of that particular community."
However, licensing programs for such teachers are practically non-existent in Minnesota, even though there are nearly 150,000 students statewide who speak a heritage language at home. Working in consultation with the Professional Educator Licensing and Standards Board, Sencer-Mura's proposal would create a new licensure pathway specifically tailored to developing and retaining these educators.
A $415,000 appropriation for the upcoming biennium is also requested in the bill.
Several testifiers spoke to the virtues of heritage language learning.
Deqa Muhidin oversees the Somali Heritage language program in Minneapolis Public Schools. The program stemmed from a defined community need — language barriers were festering between first-generation students and immigrant parents.
"This program has been extremely beneficial," Muhidin said. "[The kids] are very, very excited. They talk about communicating with their families, learning how to read Somali, saying colors in Somali."
However, teachers in the district's program hold licenses that are due to expire. She urged the committee to pass the bill so they can remain in the classroom.
Gaolee Khang, a Hmong-American student at Augsburg University, spoke of her experience taking a Hmong language course for the first time in college.
"I was emotional due to observing everyone's growth, with developing an understanding of the Hmong language, Hmong culture and customs," she said.
Now involved with Hmong businesses and nonprofits, Khang wishes she had this opportunity during her K-12 education, as it would have allowed her to gain the courage to advocate for her community at a younger age.
The measure mustered support on both sides of the aisle.
Rep. Patricia Mueller (R-Austin) noted her husband has taught ESL in her rural district and has seen the parental fears of children losing their native culture. "I know that in our community this will be incredibly impactful."