Two points have been made time and again during meetings of the House Children and Families Finance and Policy Committee this year: The first five years of a child's life are perhaps the most critical to a lifetime of healthy development and investments that help foster that growth produce tremendous returns for everyone.
The state would boost its investment in the state's youngest children by nearly $1 billion over the next biennium under provisions of a bill laid over Thursday for possible omnibus bill inclusion.
Sponsored by Rep. Nathan Coulter (DFL-Bloomington), HF1277 would increase funding for the state's Early Learning Scholarship program by $970 million during the upcoming biennium.
House panel hears bill to increase funding for MN's Early Learning Scholarship program 2/9/23
Coulter said an estimated 31,000 Minnesota children could take advantage of the scholarships if the program is fully funded, which the bill seeks to do, and that the best way to address opportunity gaps is to prevent them from opening.
"We know that early care and learning is critically important for kids, it's critically important for families, it's critically important for all of us," Coulter said. "Early learning scholarships are an integral piece of early care and education in Minnesota."
The scholarships are meant to help low-income families with young children access programs designed to prepare them to begin school and must be used in specific Parent Aware programs that are part of the state's quality rating and improvement system.
Coulter said the bill would make all children under age 5 eligible for scholarships by raising the family income cap to qualify for scholarships from 185% to 200% of the federal poverty level and removing other limits.
He said the appropriation would help families pay the full cost of early learning and care, and the bill would permanently prioritize children who meet specific criteria related to adverse childhood experiences for help. It would also add new priority criteria to that list, such as children who have experienced domestic abuse or have an incarcerated parent.
"This approach is tested and effective," Coulter said. "It's universal, but it prioritizes children most in need."
One of several letters of support came from the Greater Twin Cities United Way which said early care and learning are vital and documented to provide long-term benefits such as strong social skills, improved academic success and healthy brain development.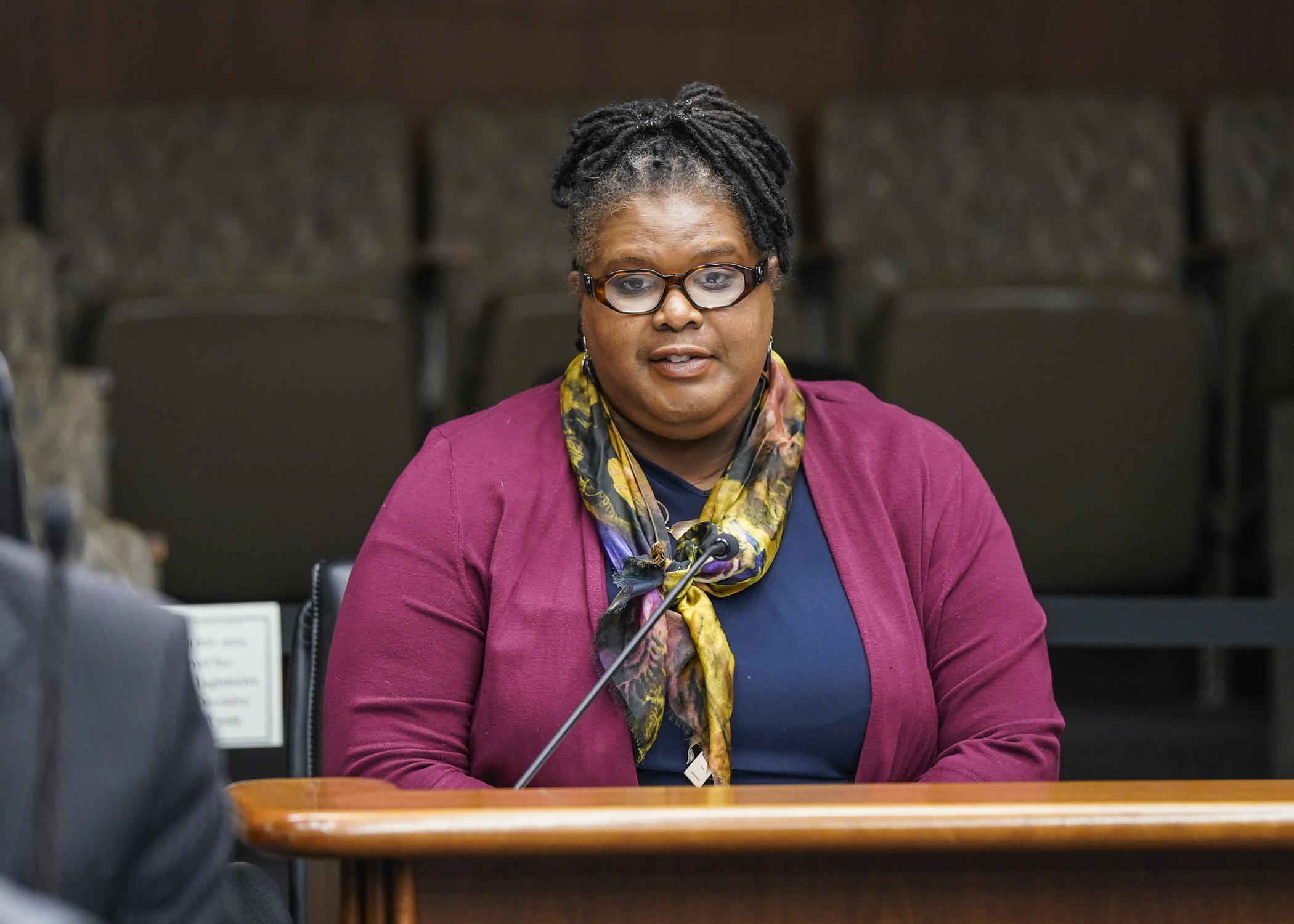 Dianne Haulcy, president and CEO of The Family Partnership, testifies Thursday before the House Children and Families Finance and Policy Committee in favor of HF1277, a bill to more fully fund early learning scholarships programs. (Photo by Catherine Davis)
"Despite these important benefits, nearly 31,000 children in Minnesota still do not have access to quality early care and learning opportunities," the organization wrote. "These gaps in accessible care are most prevalent for our youngest children under the age of three and disproportionately impact Families of Color and parents in rural areas, often hindering their ability to fully participate in the workforce."
Committee members voiced bipartisan support for the bill.
Rep. Walter Hudson (R-Albertville) said it represents the type of action he hopes the committee will take by recognizing the value of allowing parents to choose the care they believe is best for their children.
"This bill empowers parents to take dollars that are attached to their kid and seek the highest possible quality care they can find, and I appreciate that," Hudson said.
His comments were echoed by Rep. Nathan Nelson (R-Hinckley) who said parents in rural Minnesota often have limited options for this type of care. "The flexibility of being able to help families get into something that fits their family best is crucially important and I thank you for bringing this bill forward and the funding that is coming with."