During pregnancy and while nursing, working women are entitled to special accommodations in the workplace. Many of these were first set in state statute in 2014.
In the view of Rep. Erin Koegel (DFL-Spring Lake Park), these accommodations are insufficient for today's workers. As the sponsor of the HF1104, she is seeking to enact significant changes to this area of state labor law.
"Pregnancy and motherhood is one of the hardest things that I have ever done," Koegel said. "We have to make sure that we're supporting women and … the health of the babies."
The House Labor and Industry Finance and Policy Committee approved Koegel's proposed updates Thursday on a 6-5 party-line vote. The bill is now headed to the House Floor.
Primarily, Koegel wants to expand these protections to include more of the workforce. Currently, the law only applies to employers with 21 or more employees and to workers who have been with the company for at least 12 months. The bill would remove these qualifiers – the protections would now apply to all pregnant and breastfeeding workers at all workplaces in Minnesota.
Additionally, nursing mothers would be granted more flexibility for utilizing these accommodations. Language that limits their usage to only 12 months after the birth of a child and bars workers from taking breaks to express milk if it would "unduly disrupt the operations of the employer" would be stricken from existing state statute.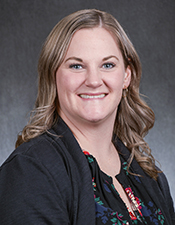 Rep. Erin Koegel
Prohibitions on employer retaliation against workers who seek to exercise these rights would be clarified as well. While commonly interpreted as termination, the law would be updated to specifically mention discipline, penalties, threats, coercion, and discrimination as also being verboten.
Government officials spoke in favor of the bill, while industry groups testified against it.
"The legislation before you today strengthens retaliation provisions and supports expectant and new parents so they can work safely during their pregnancies … and take needed breaks to express milk at work," said Kate Perushek, deputy commissioner at the Department of Labor and Industry.
"The continuous rewriting of complex labor regulations makes it harder for businesses and workers to understand rules, and it does erode long standing balance between the interests of employers and workers," said Lauryn Schothorst, director of workplace management and workforce development policy at the Minnesota Chamber of Commerce. She believes the bill will actually lead to more confusion in the workplace and less benefit for employees seeking these accommodations.
Republicans view the bill as part of a larger pattern of DFL proposals that would place undue burdens on businesses throughout the state.
"The legislation that we see at these committee hearings just simply doesn't trust job creators," said Rep. Joe McDonald (R-Delano). "And I think that's a shame."
He and Rep. Andrew Myers (R-Tonka Bay) offered a series of amendments to largely maintain the status quo. They sought to keep in place the workplace size threshold, the undue disruption caveat, and the need to be employed for 12 months prior to accessing the protections.
The first two failed, while McDonald withdrew the latter after Koegel assured him they could potentially reach a compromise before the bill is heard on the floor.