An appropriation bill lacks appropriation. But it's moving along.
Sponsored by Rep. Robert Bierman (DFL-Apple Valley), HF564 seeks to appropriate grant money to students for community-based mental health and substance use disorder treatment. Exact amounts are unspecified.
Nevertheless, the House Human Services Finance Committee approved the bill, as amended, Thursday and it's on its way to House Education Finance Committee.
"The grants are provided to community mental health providers who co-locate in the schools," Bierman said. "They diagnosis and treat children and work with parents and teachers to support the child."
The governor's budget provides some recommendations: $8.25 million in fiscal years 2024 and 2025 and a $16.5 million in 2026 and 2027.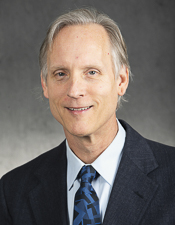 Rep. Robert Bierman
Kristy Graume, director of legislative and external affairs at the Department of Human Services, said the school and behavioral health grant program is a key investment.
Supporters spoke about the positive impact the grant money has already provided.
"School-linked mental health has increased accessibility to some of the most disadvantaged communities who are the least likely to access mental health services," said Lisa Xiong, director at Change Inc. She has observed barriers related to language, transportation, culture, economic standing and insurance status.
Others pointed to problems facing children in the state.
"We're higher than the national average for suicide in Minnesota," said Rep. Heather Keeler (DFL-Moorhead). Noting it's also the second-leading cause of death for our kids she sees this bill as a solution to "horrific numbers like that."
Kimberly Lewis, associate director of government relations at the Minnesota School Board Association, believes school-linked mental health services should reside in every school.
Not everyone agrees.
Rae Parker opposes the bill's ambiguity, and spoke against propaganda in the school system.
She believes the lack of specific language in the bill leaves it "open for any interpretation the majority wants it to say."
The bill would require a minimum of 25% of its funding to go to schools with the highest percentages of special education students with emotional and behavioral disorders or of high poverty.
While the bill states grants would need to reach rural and urban counties, Rep. Anne Neu Brindley (R-North Branch) wished the bill clarified how much should go to Greater Minnesota.