What should Minnesota do with its $17.6 billion budget surplus?
Everyone wants a piece of the pie, and that includes schools. For years, education officials have insisted state aid has not kept pace with increasing costs and rising inflation.
They have an advocate in Rep. Matt Norris (DFL-Blaine).
House Education Finance Committee hears bill to increase school funding formula 2/15/23
"I can't think of any place that would provide a higher [return on investment] than investing in our public education system here in Minnesota," Norris said. "Our general formula is not keeping up with inflation."
He sponsors HF439, which would dramatically increase the general education basic formula allowance for the upcoming biennium and tie future increases to the rate of inflation.
The House Education Finance Committee laid over the request Wednesday for possible inclusion in the omnibus bill.
Norris proposes that the state should increase the funding formula (which covers over half of an average school district's annual operating expenses) by 5% annually in the next two fiscal years. Future increases would then be indexed to inflation as measured by the Consumer Price Index for urban consumers.
This would eat up a hefty chunk of the surplus – education spending would increase by over $1 billion in the upcoming biennium and a projected $1.7 billion for fiscal years 2026-27.
[MORE: See potential increase by district]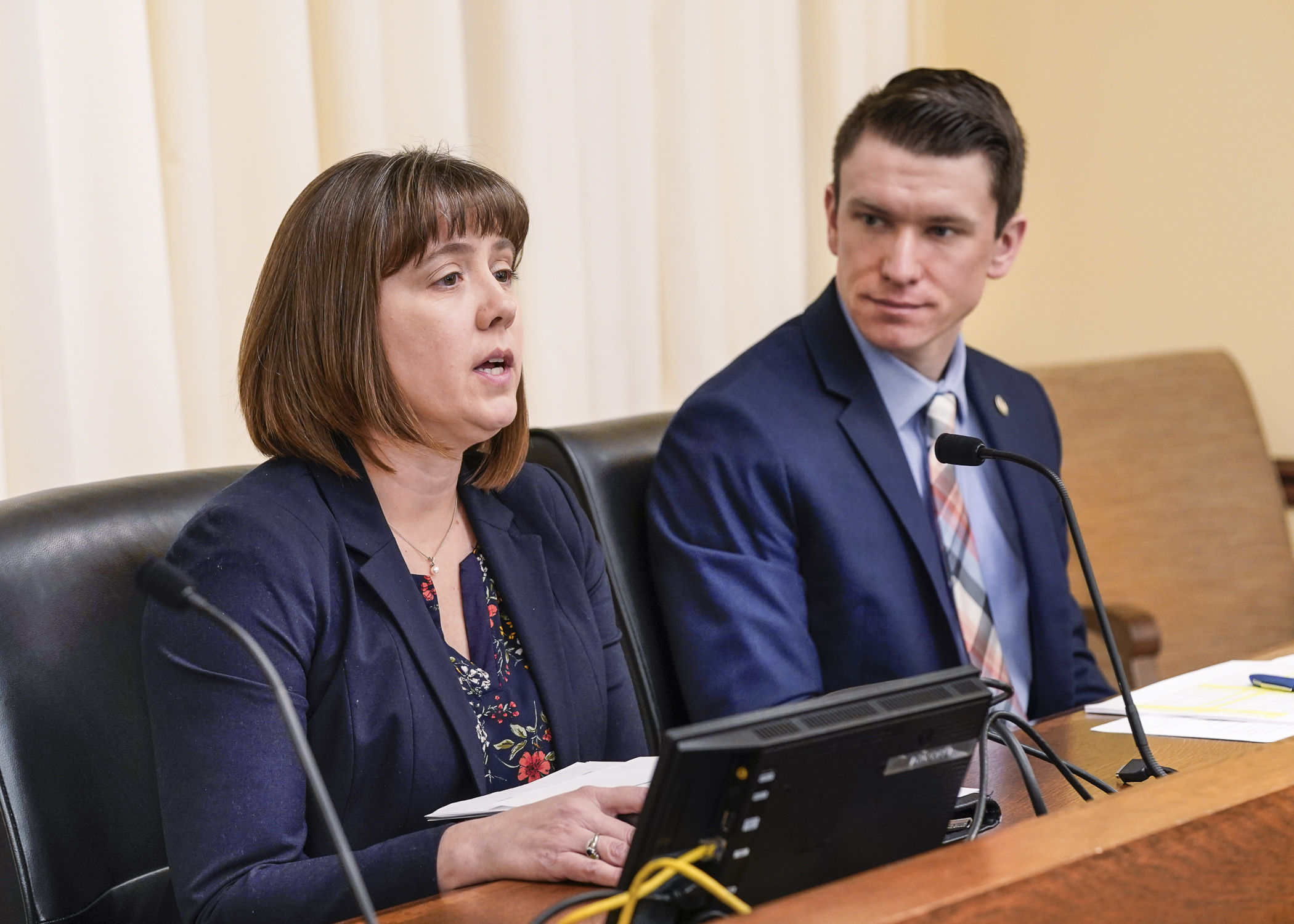 Tina Burkholder, director of business services for the Monticello Public School District, testifies before the House Education Finance Committee in support of HF439. Rep. Matt Norris, right, sponsors the bill. (Photo by Catherine Davis)
Norris argues this historic investment in public education is long overdue in order to address staffing shortages and reduce class sizes. He notes that state spending has failed to keep up with soaring inflation over the past 20 years. If it had, funding to local schools based on the average daily membership metric would be 18.4% higher than now.
Negotiations will be necessary between the Legislature and Gov. Tim Walz before session's end, as their funding formula proposals differ substantially.
Walz recommends an increase of 4% in the next biennium and a further 2% raise in the 2026-27 biennium. The formula would also be tied to inflation starting in fiscal year 2026, but annual increases would be capped at 3%. In terms of absolute dollars, these changes would amount to $716.7 million in spending for the forthcoming biennium and a projected $1.4 billion in 2026-27.
Testifiers were unanimous in their support for the formula funding increase, particularly noting that inflation is wrecking the ability of school districts to create stable long-term budgets. This has forced staffing cuts throughout the state.
"Our school board recently had to make the gut-wrenching decision to reduce our budget by $7.5 million," said Kristi Peterson, chair of the Shakopee school board. "This resulted in a reduction of 50 classroom teachers, several counselors, and other classroom support positions."
The only note of constructive criticism came from Kent Pekel, superintendent of Rochester Public Schools. He proposed using a different measure of inflation with which to peg future funding increases, namely the implicit price deflator for state and local government.