Odds are most Minnesotans would acknowledge sports betting already occurs in the state, albeit illegally.
Rep. Zack Stephenson (DFL-Coon Rapids) and others believe it's time for to not only regulate it, but provide bettors with consumer protections, and raise tax revenue for the state.
"Minnesotans deserve the same opportunity that all of our neighbors have to bet in a legal, safe marketplace with consumer protections," he said, noting more than 30 states have legalized sports betting, including Iowa, Wisconsin, North Dakota and South Dakota.
The House Commerce Finance and Policy Committee approved the Stephenson-sponsored HF2000 on a party-line vote Monday and sent it to the House Judiciary Finance and Civil Law Committee.
A similar bill sponsored by Stephenson passed the House last year but did not progress in the Senate.
The bill would grant sports betting licenses to the 11 tribal nations in Minnesota, and permit Minnesotans age 21 and older to bet on a variety of athletic events, including esports. Wagers would be allowed at brick-and-mortar locations on tribal lands or using mobile apps licensed to tribal entities.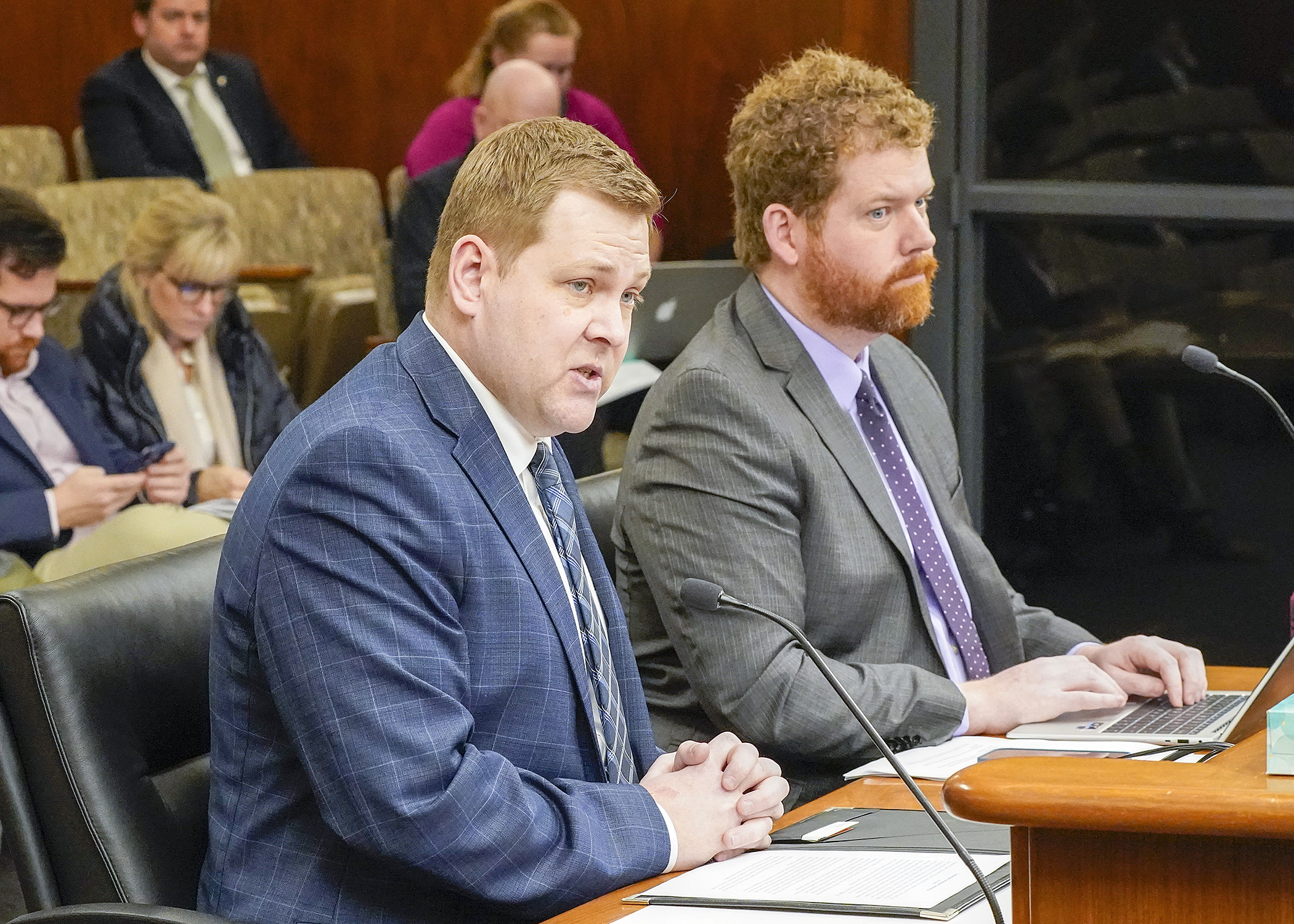 Andy Plato, executive director of the Minnesota Indian Gaming Association, testifies before the House's commerce panel Feb. 27 in support of a bill sponsored by Zack Stephenson, right, to authorize sports betting in Minnesota. (Photo by Andrew VonBank)
Four types of wagers would be prohibited: player injuries, penalties, outcome of player disciplinary rulings, and replay reviews.
Any wager placed on tribal land would not be subject to state taxation, but net revenue from online and mobile betting would be taxed at 10% with proceeds going into a special fund. It is expected that $4.1 million is to be transferred annually to the public safety and revenue departments for licensing and law enforcement.
The remainder would be split evenly between supporting amateur youth sports programs and funding problem gambling treatment programs managed by the Department of Human Services.
In addition, the bill has safeguards designed to ensure a level playing field for all bettors, such as prohibiting participants in a sporting event — or someone with "nonpublic information" about a sporting event — from wagering on that event's outcome.
Penalties would range from a misdemeanor if the illegal bet was no more than $500 and up to a felony if the illegal bet was more than $5,000.
The bill would prohibit betting on horse races, which would jeopardize the profitability of the two horse racing tracks in the state, said Tracie Wilson, CEO of Running Aces Casino and Racetrack.
"If our race track is excluded from sports betting expansion, this will endanger the future of our over $500 million racing industry in Minnesota. We are asking today for parity and basic fairness," she said.
Rep. Tim O'Driscoll (R-Sartell) echoed concerns that the state's two horse tracks deserve to have a piece of the action, and added that there's a third player in this arena that's being ignored: charitable gambling operators.
O'Driscoll said he's not yet seen charitable gambling interests — the bingo, pull tab, and raffle operators who raise funds for non-profit charities — getting a seat at the negotiating table on this bill.
The funds people have to spend on wagering is not infinite, he said, and if sports betting becomes legal, these charities will take a hit financially.
Stephenson said charitable gambling is a separate topic and it's best to address any of those issues in separate legislation.