Waiting interminably at a traffic chokepoint gives drivers ample time to ponder if a new lane or improved interchange would get things moving. Often, the final answer is, "I'll believe it when I see it."
Corridors of Commerce is a way to address "they'll never finish it in my lifetime" types of construction projects, said Shane Zahrt, representing the Coalition of Greater Minnesota Cities.   
Rep. John Petersburg (R-Waseca) sponsors HF1910 to provide $100 million each year from the General Fund for the program that targets money to transportation projects that might otherwise not be funded.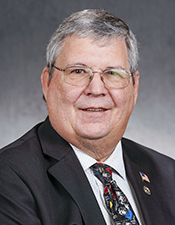 Rep. John Petersburg
It was laid over Tuesday by the House Transportation Finance and Policy Committee for possible omnibus bill inclusion.
As the basis for all aspects of the state's economy, transportation is deserving of General Fund dollars, Petersburg argued.
"It's time we start realizing how important transportation is. From the day you are born to the day you die, you are dependent on roads and bridges."
Corridors of Commerce was established in 2013 to target dollars toward adding capacity, reducing bottlenecks, and improving interchanges to foster economic growth. Projects are evaluated on criteria such as return on investments, safety improvements, freight efficiency, impact on commerce, and connections to regional trade centers. Funding from Trunk Highway Bonds and the Trunk Highway Fund has totaled $1.18 billion since the program began. 
Rep. Jeff Brand (DFL-St. Peter) said Corridors of Commerce projects save lives, referring in part to work done on dangerous stretches of Highway 14 in Southern Minnesota.
Citing projects such as an additional lane on Interstate 694 in Shoreview and the Interstates 494 and 35W interchange, the Municipal Legislative Commission supports funding Corridors of Commerce.
"Without additional funding being approved, the momentum of projects vital to our region will be curtailed, and necessary improvements to our states infrastructure will jeopardize the continued growth of communities and the economic prosperity they depend on," wrote Edina Mayor James Hovland, the commission chair.