There were more than a few group photos taken Thursday morning. Many of those in the frame sported green buttons that said ERA YES.
Grins were sizable after the House State and Local Government Finance and Policy Committee approved two bills — both on split-voice votes — that aim to ensure equality for all Minnesotans.
State voters may get a chance to do the same on one proposal.
Sponsored by Rep. Kaohly Vang Her (DFL-St. Paul), HF173 would ask voters at the 2024 general election if the state constitution should be amended. The ballot question would be: "Shall the Minnesota Constitution be amended by adding a specific guarantee that equality of rights under the law shall not be denied or abridged by this state or any of its cities, counties, or other political subdivisions on account of race, color, creed, sex, sexual orientation, gender identity or expression, age, disability, ancestry, or national origin?"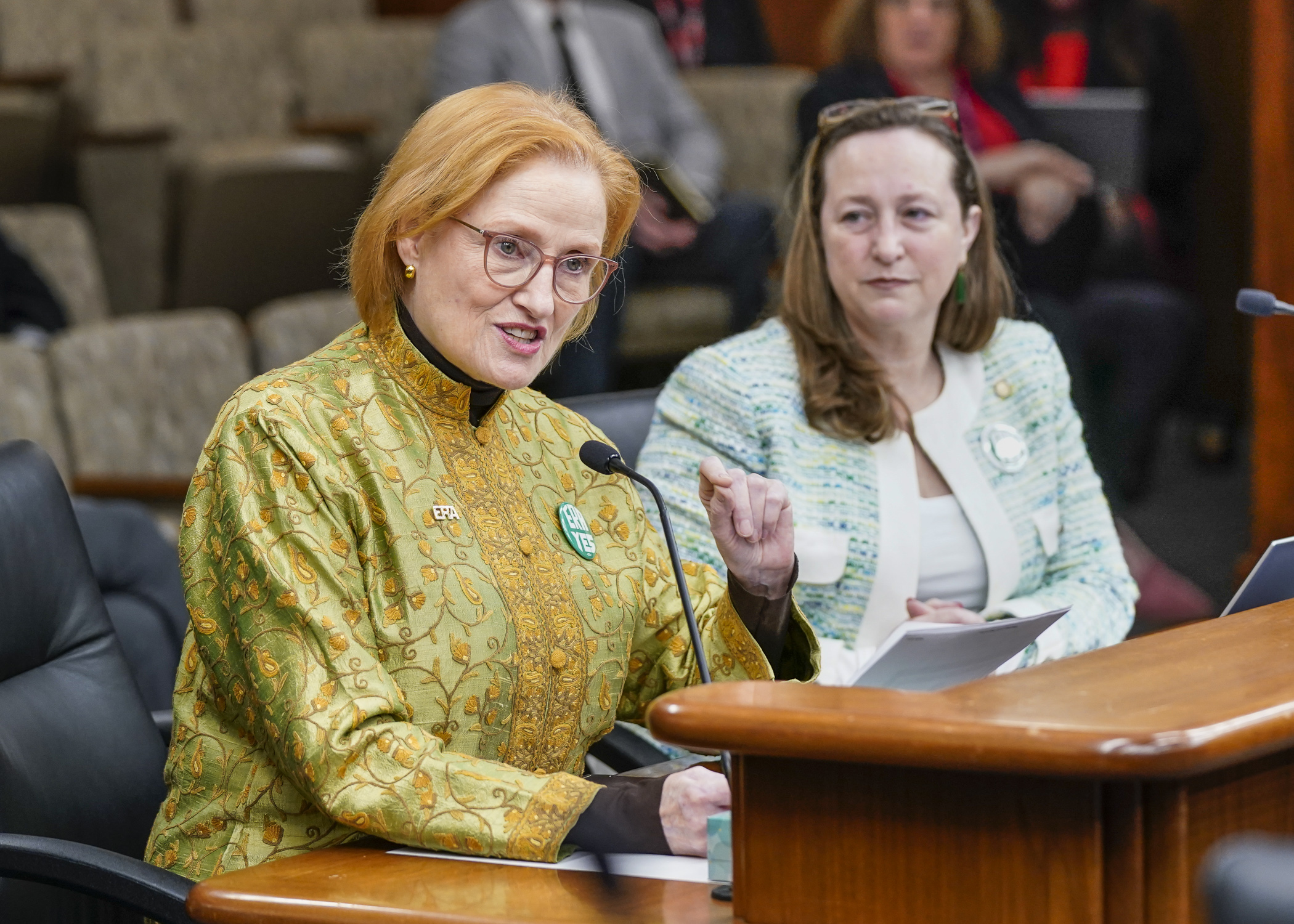 Betty Folliard, founder of ERA Minnesota, testifies March 2 before the House's state and local government committee in support of a resolution urging Congress to recognize state ratification of the Equal Rights Amendment. (Photo by Catherine Davis)
"We want a Minnesota that allows every resident to thrive," said Her of her bill sent to the House Rules and Legislative Administration Committee via split-voice vote. She emphasized adding rights for one group of people does not take away rights from another group.
Kathryn Ringham is a working board member of ERA Minnesota. "Having the ERA words explicitly stated in the constitution would guarantee equal legal rights and permanent protection for Minnesotans regardless of sex/gender. It would mean that the equal rights of women will not be subject to the whims of divisive politics," she wrote.
Touting the success of his wife who "kicked the crap out of all of her male counterparts both in class and her job," and his oldest daughter who is a college senior but should only be a sophomore — "she stomped all of the male counterparts into a mudhole, in her words" — Rep. Jim Nash (R-Waconia) said they both feel equally protected under the 14th Amendment. "They were deeply disappointed to find out that apparently they were not."
Rep. Kristin Bahner (DFL-Maple Grove) said the third branch of government disagrees. "The 14th Amendment, according to the courts, does not actually cover discrimination on the basis of sex."
Going to the House Floor is the Bahner-sponsored HF197, as amended.
House committee considers bill to recognize state ratification of the Equal Rights Amendment 3/2/23
It's a resolution to Congress requesting it recognize state ratification of the Equal Rights Amendment. An amendment proposal was first submitted to the states for ratification in 1972 and Minnesota did that one year later. In 2020, Virginia became the 38th state, meaning the necessary three-fourths of states have done so.
"Girls and women comprise over half the population of the United States. The ERA will guarantee them equality so that they cannot be treated as lesser than. The ERA will embed the fundamental guarantee in the U.S. Constitution for equal rights for all people, ensuring that individuals, regardless of sex, are treated equally under the law," said Betty Folliard, founder of ERA Minnesota.
Per the resolution, "adoption of the ERA will help to advance gender justice for women, girls and gender-expansive individuals."
Rep. Bobbie Harder (R-Henderson) sought a definition of what is gender justice and gender expansive.
"What we're talking about is LGBTQIA and non-binary people," Folliard said. "… If you are being discriminated on the basis of sex or gender you have the opportunity to use the Equal Rights Amendment."
Harder said resolution language has changed since 1973. "Now you're including people who were not born as girls, they're something else. The perception that I have is that now I'm potentially going to be excluded. We are all equal, but apparently some people are more equal than others. I struggle with that."
Language in the amendment itself has not changed, and things cannot be denied or abridged based on one's sex, Bahner countered. "The courts interpret (sex) a little bit more broadly. This resolution just alludes to that fact."