The state's workforce shortage is especially acute in the public safety sector.
Peace officers and firefighters are retiring at record rates, in large part due to post-traumatic stress disorder they develop because of the considerable job-related trauma they experience.
Stopping the skyrocketing number of PTSD-related retirements must be a top priority, says Rep. Kaohly Vang Her (DFL-St. Paul).
She sponsors a bill that would establish training programs to prepare public safety officers for the on-the-job trauma they will face, identify when officers have developed PTSD, and make available mental health programs to treat PTSD and give officers and firefighters a chance to return to their jobs rather than take early retirement.
The House Public Safety Finance and Policy Committee approved HF1234, as amended twice, Thursday on a voice vote with no audible dissent and sent it to the House Judiciary Finance and Civil Law Committee.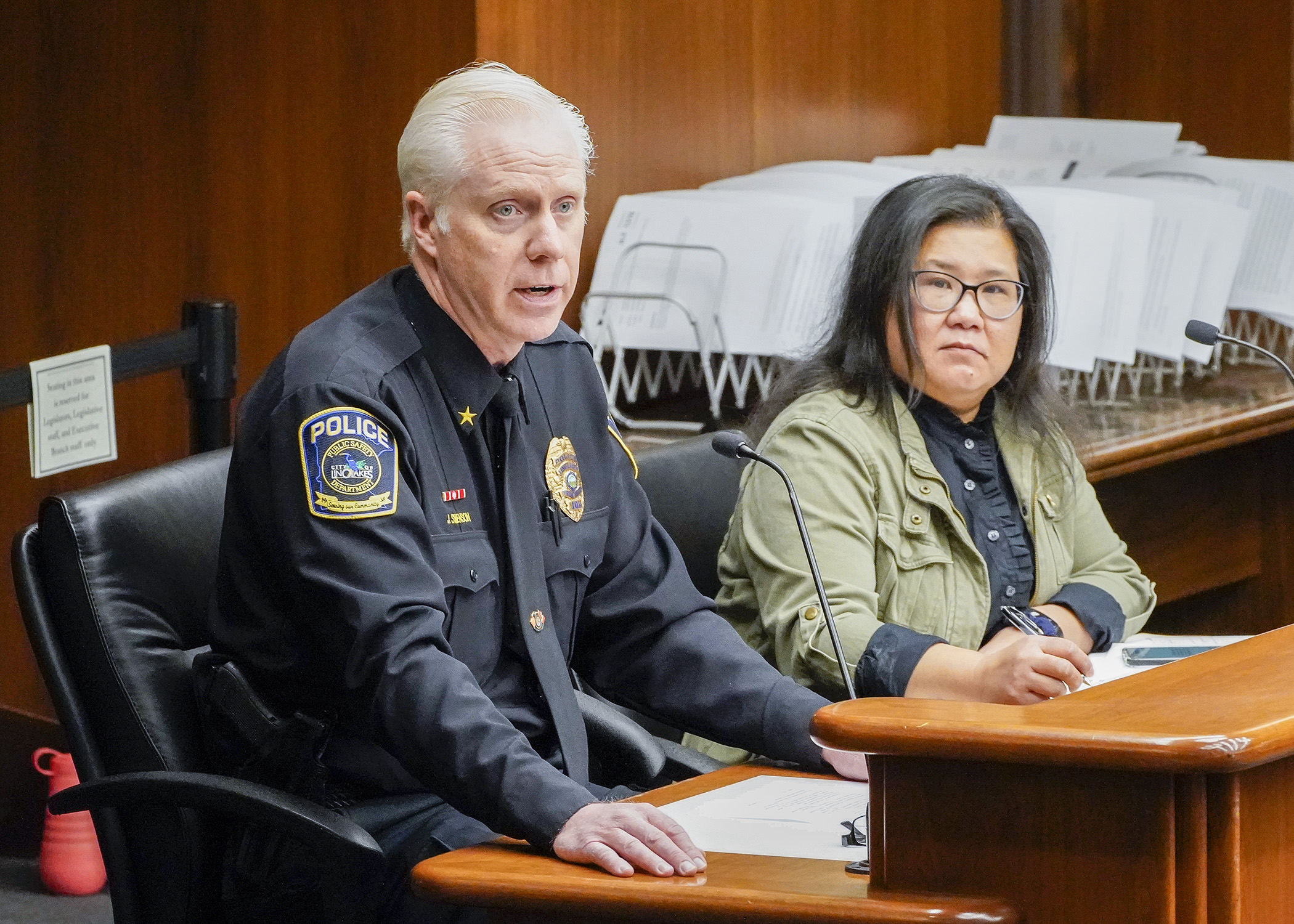 John Swenson, public safety director for Lino Lakes, testifies before the House Public Safety Finance and Policy Committee March 9 in support of HF1234, sponsored by Rep. Kaohly Vang Her, right. (Photo by Andrew VonBank)
The bill would require up to 24 weeks of mental health treatment before an applicant with a psychological condition such as PTSD or other serious mental health issue could apply for duty disability benefits.
Public safety agencies employing first responders would be required to continue paying the employee's full salary and employer-provided benefits during the treatment period.
Mental health treatments for PTSD have a very high success rate, Her said, but the current application process for disability benefits discourages such treatment and that is contrary to the goal of restoring employees to good health and returning them to work.
Providing wellness programs to prevent job-related stress disorders is a critical part of the proposed legislation, said committee chair Rep. Kelly Moller (DFL-Shoreview).
"(First responders) see unimaginable things in their line of work, and we want to make sure that not only are they physically healthy, but they are mentally healthy as well," she said.
To that end, the Peace Officer Standards and Training Board would be required to create learning objectives and a training course to prepare police officers for the stressful and traumatic events that are common to policing and teach officers methods to process and cope with occupational stress and trauma.
Students studying law enforcement and currently employed licensed police officers would be required to undergo the training.
Several public safety organizations submitted letters of support to the committee, including the St. Paul Fire Department, Minnesota Sheriff's Association, and Minnesota Chiefs of Police Association.
Representing the Minnesota Chiefs of Police Association, John Swenson gave the bill high marks for focusing on prevention and treatment of job-related mental health injuries.
"I have seen the toll that our profession can take on police officers and firefighters," said Swanson of his 30-year public safety career. "We provide treatment to our first responders who sustain physical injuries. We need to provide treatment for our first responders that sustain mental health injuries. And this legislation will do just that."