The National Alliance on Mental Health estimates only one in three Black adults with mental illness receive treatment.
"A recent Blue Cross Blue Shield study showed major depression goes undiagnosed and untreated at disproportionally higher rates in Black communities," added Rep. Ruth Richardson (DFL-Mendota Heights).
To address these racial health disparities, Richardson sponsors HF1633, which would appropriate $6.25 million in fiscal year 2024 and nearly $6.44 million in fiscal year 2025 for a grant to the nonprofit African American Child Wellness Institute. The bill calls for a base appropriation of about $6.31 million in fiscal year 2026 and $6.83 million in fiscal year 2027.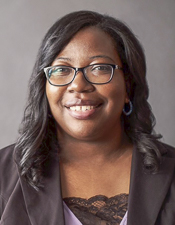 Rep. Ruth Richardson
The House Human Services Finance Committee laid the bill over Thursday for possible omnibus bill inclusion.
Regardless of an individual's ability to pay or their place of residence, the grants would support the organization in providing mental health and substance use disorder services, supervision, training and care coordination.
Mental health and substance use disorder services would also have to be culturally specific, comprehensive, trauma-informed, practice-and-evidence-based and person and family centered.
"Our psychological research shows us that health outcomes for Black patients are better when they are treated by Black providers," said Dr. BraVada Garrett-Akinsanya, the institute's executive director.
Dr. Kalena Peterson, a former trainee and current assistant director, believes African American providers are essential in reducing the stigma around seeking treatment.
When Keyana Cannedy's son was getting in trouble at school, she both took parenting classes and had him begin counseling.
"Because of my quick response to my son's behavioral issues, he now has a lifetime bag of tools that he can pull from when dealing with difficult situations," said Cannedy, a project Murua graduate.
In her opinion, Black boys who don't learn the skills to ask for help or manage their emotions are at risk of joining gangs, going to prison or dying. "They don't know how to cope or don't know where to go to seek help."