Minnesota currently has a number of school-based early learning programs that require their teachers to be licensed. Others, such as voluntary pre-kindergarten and some school readiness programs, do not.
Rep. Josiah Hill (DFL-Stillwater) says this discrepancy can harm teachers in programs that do not require licenses, who can be paid less with fewer benefits and rights than their peers.
And he believes it harms young children as well, who don't receive the most effective instruction when educators lack the necessary background to provide it.
Hill sponsors HF2281 that would require school districts and charter schools to employ licensed teachers in preschool, school readiness, school readiness plus, prekindergarten and other early education programs. It would also add early education teachers to the statutory definition of teacher, allowing them to join collective bargaining units.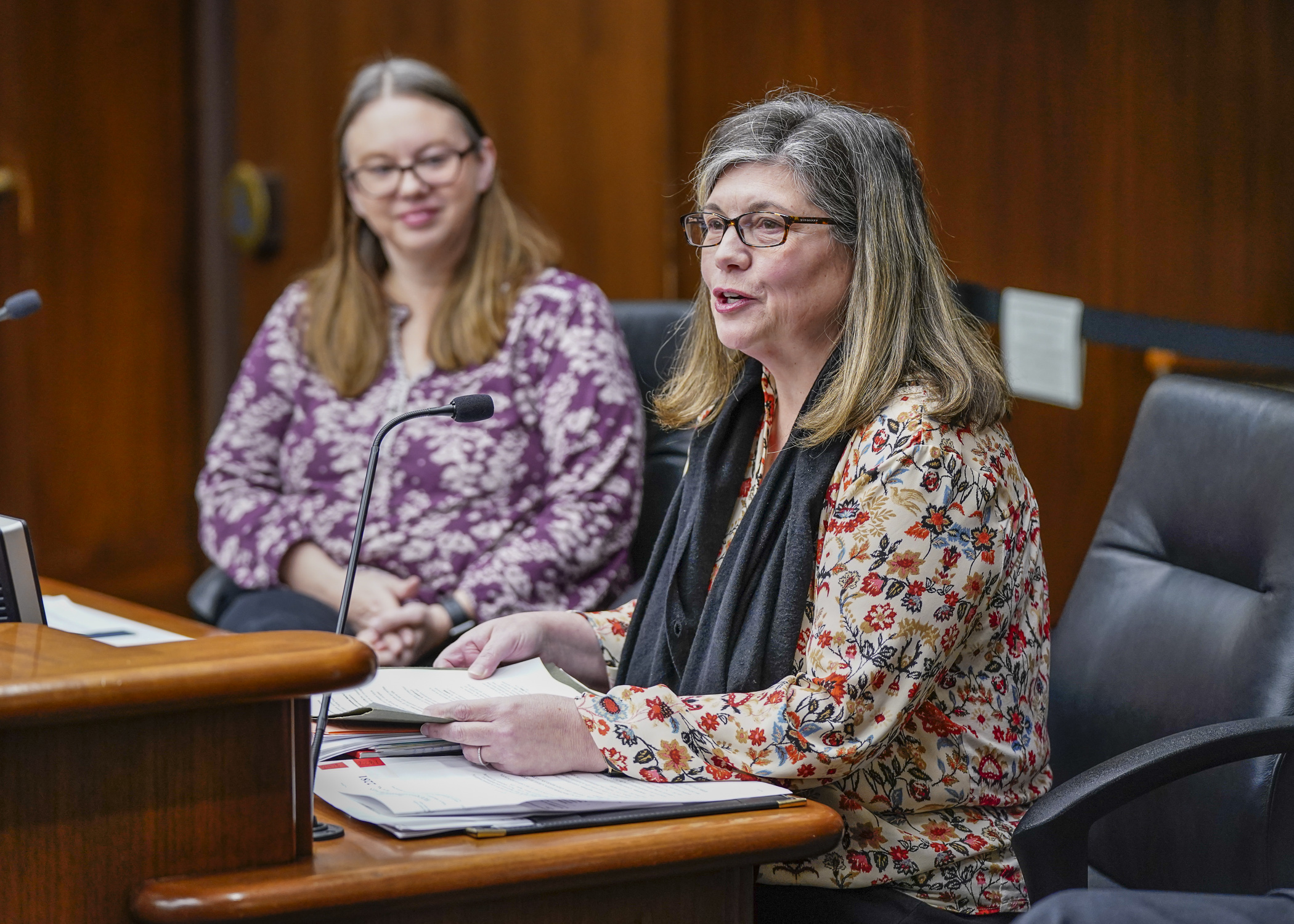 Dominic Kirkpatrick, president of the Eden Prairie Education Association, testifies Tuesday before the House Children and Families Finance and Policy Committee in support of HF2281. (Photo by Catherine Davis)
The House Children and Families Finance and Policy Committee laid the bill over, as amended, Tuesday for possible inclusion in an omnibus bill.
Dominic Kirkpatrick, a teacher currently serving as president of the Eden Prairie Education Association, told members that although you often find preschool and kindergarten classrooms side by side in the same elementary school, compensation for educators, with the same qualifications, in those classrooms can vary widely.
"As a result, the mission to have highly trained and effective educators for our youngest learners is failing because we are seeing those educators who love engaging with those preschool students, leave preschool classrooms to teach kindergarten right next door, or third grade three doors down," she said.
The bill would also allow teachers without a license who worked during the 2022-23 school year to be exempt from the requirement until July 1, 2027.
But several committee members voiced concerns.
Rep. Ben Davis (R-Merrifield) said school districts already have the power to require licenses for teachers in such programs and the choice should remain at the local level rather than a "one-size-fits-all" approach.
Rep. Natalie Zeleznikar (R-Fredenberg Township) said the bill could force experienced teachers to find other jobs rather than taking on the time and expense of additional education, exacerbating an already grim workforce shortage in Greater Minnesota.
"It's going to hurt rural Minnesota tremendously," she said.
Hill said he would be open to adding language to address those concerns.