Oil refineries are not your average work environment, even by industrial workplace standards. A minor mistake by an untrained worker can have catastrophic consequences.
For years, serious safety concerns raised by workers at Minnesota's two oil refineries have gone unheeded, motivating Rep. Dave Lislegard (DFL-Aurora) to sponsor HF10. A former steelworker on the Iron Range, Lislegard spoke passionately about the importance of employing skilled professionals who take safety seriously on a worksite.
"It's really simple. This has been over two years," he said. "[Refineries] had two years to correct the problem. They didn't correct the problem, and by God, we are." 
On Tuesday, the House Labor and Industry Finance and Policy Committee approved the bill, as amended, by a 10-2 vote and referred it to the House Judiciary Finance and Civil Law Committee.
The bill aims to improve workplace training and safety standards by requiring that a percentage of all third-party contractor employees working at oil refineries be graduates or apprentices in a registered apprenticeship program. These requirements would be phased in over time so:
30% of a contractor's workforce must qualify as "skilled and trained" (as defined in the bill) by Jan. 1, 2024;
45% by Jan. 1, 2025; and
60% by Jan. 1, 2026.
Contracts entered into, extended, or renewed on or after Jan. 1, 2024, between refineries and contractors would have to abide by these new standards. Previously existing contracts would have to be renegotiated to comply by Jan. 1, 2025.
House labor committee approves petroleum refinery safety bill 3/14/23
Certain exemptions are provided for, such as if a good faith search by a union to find qualified workers for a contractor comes up empty or an emergency situation necessitates immediate action by whoever is working at the refinery.
The Department of Labor and Industry would be empowered to fine violators of these standards at a rate of between $5,000 and $10,000 per violation.
Dueling testimony on the bill was heard before a large audience consisting mainly of refinery workers.
Bill advocates emphasized the unique dangers posed by oil refineries. A small slipup could not only kill workers, but also damage the environment and harm the well-being of surrounding communities.
Ryan Beierman, a trustee of Teamsters Local 120, has worked at the Marathon oil refinery in St. Paul Park for over 20 years.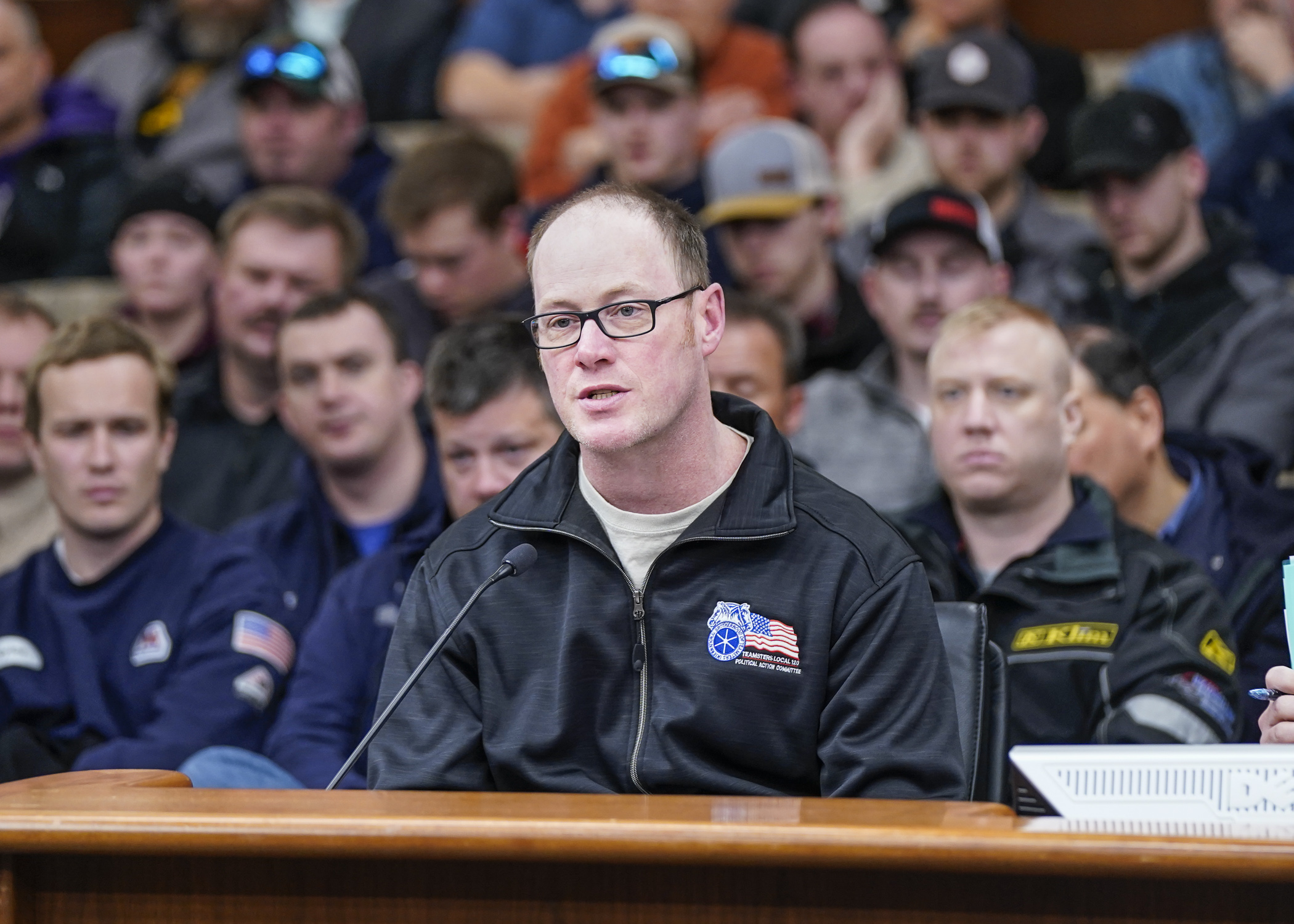 Backed by fellow workers, Ryan Beierman, a trustee for Teamsters Local 120, testifies before the House Labor and Industry Finance and Policy Committee March 14 in support of HF10. (Photo by Catherine Davis)
"I've seen firsthand what happens when highly trained contractors are replaced with contractors who do not train their employees [adequately]," he said. "These guys don't know what they don't know and that's a dangerous thing."
In contrast, industry lobbyists argued oil refineries are already exceptionally safe by industrial workplace standards.
"[This bill] is not about safety, rather the proposal is the government inserting itself into the hiring practices of the private sector, creating an uneven playing field," said Lynn Granger, Midwest region director for the American Petroleum Institute. "House File 10 could also jeopardize worker and community safety, challenge the economic viability of Minnesota's refiners, lead to immediate job losses and increased costs."
Rep. Joe McDonald (R-Delano) said workers with years of experience at these refineries would be displaced because they have not been certified by one of the union-sponsored apprenticeship programs mandated by the bill.
Lislegard replied that if someone has been working at a refinery for years, "they'd go through that apprenticeship program pretty fast, wouldn't they."