Although Minnesota regularly ranks high on lists of best states to live in, there is a caveat, some say, which is that it's not such a great a state to live in if you're not white.
Minnesota is one of the worst places for Black families to live, says Rep. Hodan Hassan (DFL-Mpls).
She cites a University of Minnesota study titled The Minnesota Paradox that documented the many areas where a racial gap exists in the state, including unemployment rates, wages, incarceration rates, arrest rates, home ownership rates, mortgage lending rates, test scores, and school discipline and suspension rates.
Hassan sponsors HF1289 to create a loan program for targeted groups, such as minorities, women, and people with disabilities, to pursue development projects intended to reduce entrenched racial and socioeconomic disparities. She said low-income housing is an example.
"This is crucially important for closing the wealth gap in our great state," Hassan said.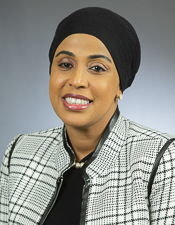 Rep. Hodan Hassan
The House Economic Development Finance and Policy Committee laid the bill over Wednesday for possible omnibus bill inclusion.
No allocation to fund the program is specified because Hassan doesn't know the fiscal year 2024 budget target for the committee, which she chairs. Last session's stalled omnibus workforce and business development finance and policy bill asked for $20 million.
"With a $17 billion surplus, we can … support emerging developers who lack the access to capital and networks that can tip the balance to a project's success," she said.
The bill would limit predevelopment loans to $50,000 and all other types of loans to $500,000 and set loan durations at six months to five years, all at low or zero interest.
An emerging developer fund program account within the special revenue fund in the state treasury would be created to make loans to less-established developers, with all loan repayments returned in order to fund additional loans, making it a self-sustaining revolving loan fund in future years.
Eligible projects would include those that would directly benefit residents of a low-income household, stimulate community stabilization or revitalization, or would be constructed in a disadvantaged or low-income community.
Traditional ways of financing don't work for developers due to the high risk of failure they come with, said Nawal Noor, founder and CEO of Noor Companies, a minority and woman-owned real estate development, general contracting, and investment company.
And with a track record of structural racism, traditional financial intuitions make it even harder for minority developers to get the required capital to undertake projects, she said.
The American Institute of Architects Minnesota expressed support in a letter: "If we wish to continue to create a strong base of developers in our community for today and for the future, it is time to acknowledge that there are significant barriers for developers of color and find ways to eliminate those barriers and advance equitable development."