Rep. Jeff Backer (R-Browns Valley) volunteers as an EMT for the Browns Valley ambulance service. He  says a major lesson learned from the 9/11 attacks — and from personal experience — is that ineffective communication and poor coordination among first responders cost lives.
As a result, and with the help of federal dollars, Minnesota began outfitting police, fire, and EMS services with state-of-the-art portable radios enabling cross-communication among these first responders.
And after two decades, the statewide rollout of these radios is complete, with more than 91,000 now in use. However, Backer noted more than 60% of them are now obsolete with no replacement parts or software updates available.
To take a big step toward fixing that problem, he sponsors HF1075, which would appropriate $250 million in fiscal year 2024 to replace existing first- and second-generation Allied Radio Matrix for Emergency Response portable radios with the latest models having encryption features, Wi-Fi connectivity, and the ability to operate on radio systems in neighboring states.
The House Public Safety Finance and Policy Committee amended the bill Tuesday before laying it over for possible omnibus bill inclusion.
House public safety panel considers HF1075 3/21/23
Depending on the desired features and functionality, the cost of a newer generation ARMER system radio unit is approximately $4,000-$6,000 per unit, Backer said.
Ortonville Fire Chief Charles Henningson held up an ARMER emergency radio that quit working two weeks ago during a call to the city's school.
"We have 10 left. They are obsolete and cannot be fixed," he said. His limited budget forces him to choose between buying replacement radios or maintaining other critical firefighting gear.
He is not alone.
The need for reliable, radio communications for first responders is highest in Greater Minnesota, where the nearest hospital may be a hundred or more miles away, said Stevens County Administrator Rebecca Young.
With their small budgets, the majority of local units of government cannot afford these radio upgrades, Young said. Her county board has occasionally imposed tax levies to help pay for radio equipment upgrades and replacements but has not done so in years.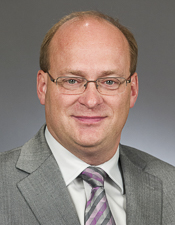 Rep. Jeff Backer
First responders in rural areas are most likely volunteers, she said, and when they are not responding to calls or working at their paid jobs, they are holding fundraisers or applying for small grants to replace aging radio gear. But those funds are woefully insufficient.
"Even with that concentrated effort, Stevens County alone was looking at a total replacement cost of $996,000 for a complete system upgrade," she said.
No state or federally supported funding programs are in place that are dedicated solely to assisting local public safety agencies with meeting their ARMER system radio equipment needs.
The $250 million being sought would go to the Department of Public Safety Emergency Communications Networks Division, which would administer grants in consultation with the Statewide Emergency Communications Board. Each local government unit would be eligible to receive one grant that would be contingent upon a local match of at least 5%.
Backer said the request is only a modest step toward the full amount needed for a complete ARMER system upgrade statewide, and he would like to see permanent, ongoing state funding.
"Radios are such a key factor in what we do," said Rep. John Huot (DFL-Rosemount).
Also an EMT, Huot sympathized with Backer on the difficulties of providing emergency services in rural Minnesota without capable radio gear.
"You could easily be a hundred miles from a hospital, and you need to talk to the doctor, and you need to get some orders," he said. "(Without an up-to-date radio) you're in trouble, because now it leaves you totally blind to what you have to do for that patient."