Every school with 1,000 or more students must have a licensed school nurse on site. That has been the law in Minnesota since 1986.
Rep. Kaela Berg (DFL-Burnsville) believes that ratio is woefully inadequate when it comes to meeting the health needs of today's schoolkids. She sponsors HF2037, which would cut that ratio in half.
"We currently have one nurse for every 1,400 students and many of those nurses are having to visit multiple school sites a day," she said. "Access to a medical professional not only keeps kids in school more but also improves test scores."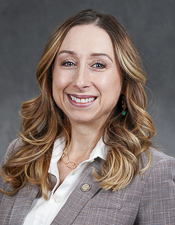 Rep. Kaela Berg
On Wednesday, the House Education Policy Committee approved the proposal, as amended, referring it to the House Education Finance Committee.
Berg's bill would apply to local districts and charter schools, requiring their buildings with a daily membership of 500 or more pupils to employ a licensed school nurse. If a school board of charter school administrator cannot find a qualified licensed school nurse, they may fulfill the requirement by employing a registered nurse or public health nurse.
The bill would also create a school health services specialist position at the Department of Education to coordinate these services statewide.
Four licensed school nurses offered strong support of the bill.
Jolie Holland, legislative chair of the School Nurse Organization of Minnesota, highlighted the role of school nurses in caring for students without access to routine health care; tending to their ever-growing mental health needs; and assisting with medication management.
"Let's make Minnesota schools be known for its excellence in student health care, and now is the perfect time to act," she said.
Rep. Ben Bakeberg (R-Jordan) agrees that it would be great to have a nurse in every school building, but he questions what would happen if a school simply could not find someone to fill an open position.
Holland maintains that many nurses have left the profession because of overwork and that many would come back if they were made responsible for fewer students in just a single building.