In his closing remarks to wrap up the first meeting of the conference committee on the omnibus commerce finance and policy bill Wednesday, Sen. Matt Klein (DFL-Mendota Heights) summed up the swift progress made in the preceding 90 minutes.
"There's really very little of this bill yet to wrap up. We have broad agreement between House and Senate positions," he said.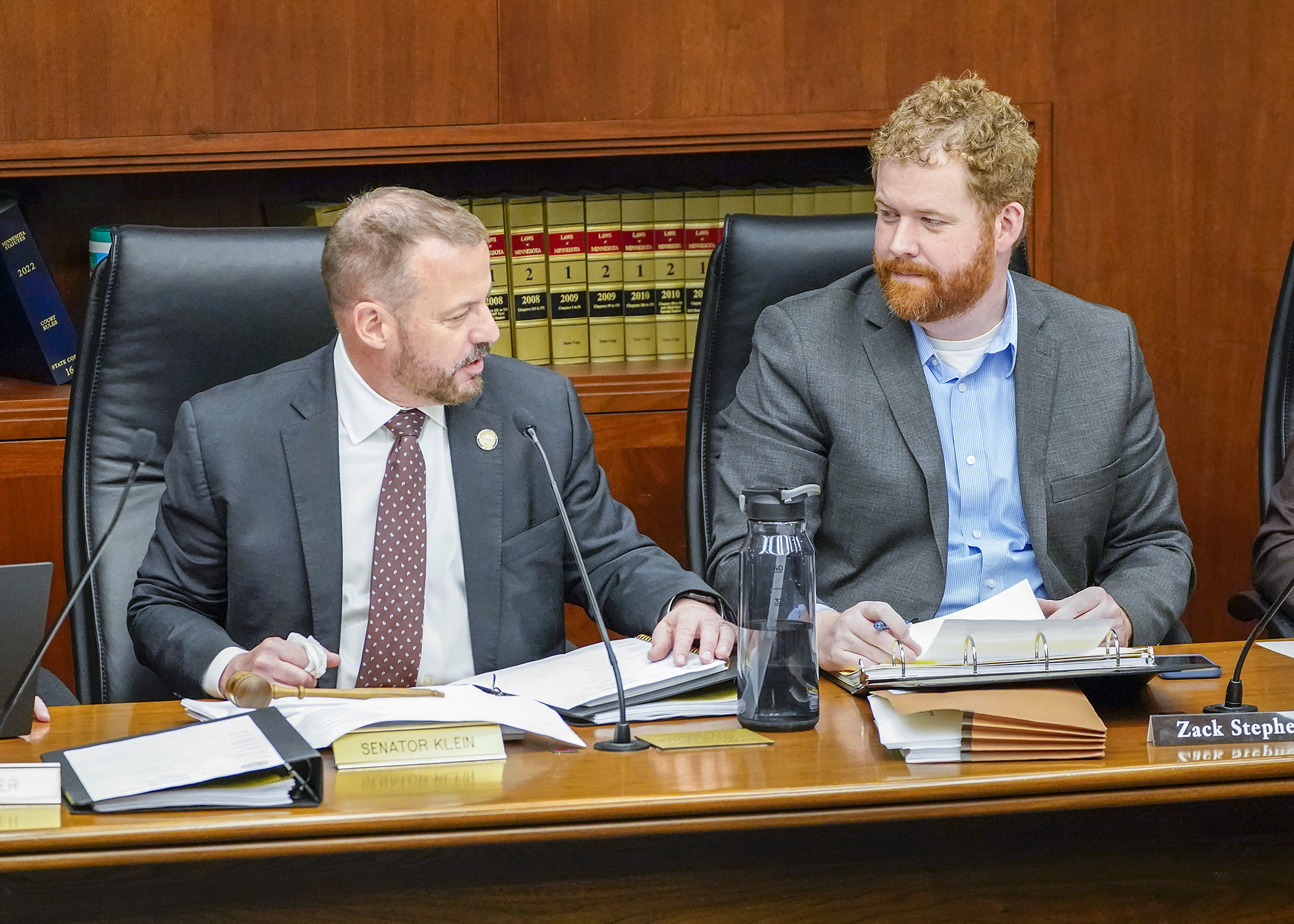 Sen. Matt Klein and Rep. Zack Stephenson confer before the first meeting of the omnibus commerce conference committee, May 3. (Photo by Andrew VonBank)
The almost-victory lap was justified because the House and Senate versions of the bill came in with dozens of policy differences; by meeting's end all but a handful were resolved.
In other words, the business committee took care of business.
Rep. Zack Stephenson (DFL-Coon Rapids), who sponsors HF2680/SF2744* with Klein, expects a brief meeting Friday to adopt the completed conference committee report.
Agreed appropriations for the Department of Commerce and the programs it manages total $293.7 million for the 2024-25 biennium.
[MORE: View the spreadsheet, comparison summary]
The committee has made available separate side-by-side comparisons on the appropriations, commercial consumer, insurance, financial institutions, and miscellaneous sections of the bills.
Notable House-only provisions voted into the conference committee report include:
modifying open enrollment conditions for Medical Assistance;
modifying the power of homeowner associations to levy fines;
prohibiting insurers from setting homeowner or rental insurance rates based solely on the presence of a dog of a specific breed or mixture of breeds; and
setting compensation rates for vehicle dealer warranty labor.
Of course, same or very similar provisions in both bills were fine-tuned and accepted. Some of the more notable include those:
requiring motor vehicle dealers to disclose global positioning system starter interrupt device installations in vehicles they sell;
changing what constitutes unlawful gasoline sales;
creating a Prescription Drug Affordability Board to take action against drug companies making excessive price increases;
prohibiting deductibles on certain preventive health care items and services;
establishing a Mental Health Parity and Substance Abuse Accountability Office;
allowing a life insurance company to deny a death benefit only if the insured dies within one year of the issuance of the policy; current law permits a two-year exclusion;
modifying disclosure requirements of post-loss assignment of insurance benefits;
expanding used motor vehicle warranties;
funding the Minnesota Council on Economic Education;
requiring health plans to limit patient co-pays to no more than $25 per one-month supply for prescription drugs used to treat chronic diseases;
establishing a student loan advocate to educate students on educational loans;
prohibiting lenders from collecting on loans made under coercion by a third party, such as a domestic abuser; and
establishing the "Strengthen Minnesota Homes Act."
Among the provisions subject to negotiations between now and Friday's scheduled meeting:
changing state law regarding deceptive trade practices;
prohibiting boat insurance contracts from excluding coverage for family members;
establishing the "Minnesota Age-Appropriate Design Code Act";
establishing a maximum annual interest rate of 36% for short-term "payday" loans;
prohibiting price-gouging by contractors after severe weather events;
establishing the Digital Fair Repair Act;
prohibiting price-gouging after emergency declarations; and
requiring banks and credit unions with more than $1 billion in assets to submit an annual "climate risk disclosure" survey to the Department of Commerce.