— UPDATED at 12:17 a.m. May 16 after House vote
Two gun-control measures that proponents have been seeking for years are on their way to the governor's desk.
Gov. Tim Walz has previously expressed support for the changes.
After eight-plus hours of discussion, members voted 69-63 to approve the the 522-page conference committee report on HF2890/SF2909* early Tuesday. The Senate passed the report via a 34-33 party-line vote May 12.
The public safety and judiciary finance and policy agreement contains provisions to require universal background checks for handgun sales and would enact new laws on extreme-risk protection orders thereby allowing family members and others to petition a court to have firearms removed from a person found to pose a significant danger to themselves or others.
House Floor Session 5/15/23 - Part 3
Rep. Kelly Moller (DFL-Shoreview), who sponsors the bill with Sen. Ron Latz (DFL-St. Louis Park), touted the dozens of policy changes in the bill taking innovative approaches to criminal justice reform, including increasing crime prevention efforts, helping offenders reintegrate into society after release from prison, and giving more opportunities for people with criminal records to seek redemption.
"We have extremely important investments in public safety," Moller said. "This bill has transformational and historic investments that cover everything from violence prevention to rehabilitation to everything in between."
"I'm proud of what the conference committee has accomplished this session, focusing on reducing systemic inequities in Minnesota's justice system. The investments we are making today will improve outcomes for Minnesotans for years to come," Rep. Jamie Becker-Finn (DFL-Roseville) said in a statement. She chairs the House Judiciary Finance and Civil Law Committee.
Republicans say it is soft on crime and the gun-control provisions would simply penalize law-abiding gun owners.
Rep. Anne Neu Brindley (R-North Branch) was among those upset that no Republicans were appointed to the conference committee and their voices were not heard.
"This is pretty arrogant work. This is very one-sided work. It is work that chose to shut out 48% of Minnesotans' viewpoints."
Finance provisions
As detailed in the conference committee spreadsheet, the agreement would appropriate $3.6 billion in the 2024-25 biennium to fund the Department of Public Safety, Department of Corrections, Minnesota courts, civil legal services, Guardian ad Litem Board, Tax Court, Uniform Laws Commission, Board on Judicial Standards, Board of Public Defense, Human Rights Department, and Peace Officers Standards and Training Board.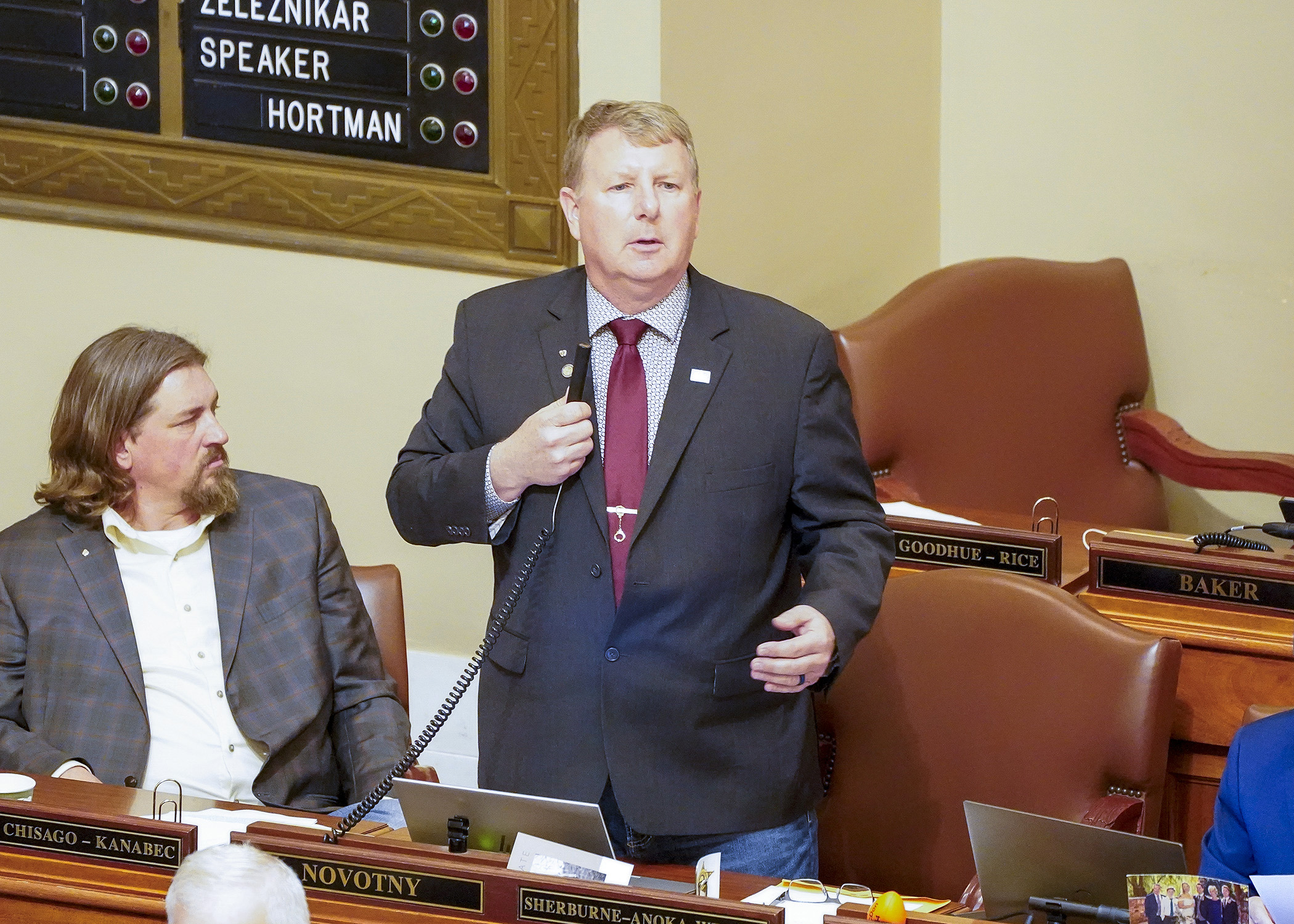 Rep. Paul Novotny debates a motion May 15 to refuse to adopt the conference committee report on the judiciary and public safety finance bill. (Photo by Andrew VonBank)
Becker-Finn said the agreement would make significant strides in reversing chronic underfunding of the state judiciary system by giving raises to judges, law clerks, public defenders, and Civil Legal Services lawyers.
Raises for Civil Legal Services lawyers, who represent low-income clients in civil cases, would be $30.7 million for the 2024-25 biennium, a more than 85% budget increase, according to nonpartisan House Fiscal Analysis Department staff.
Public defenders would get significant raises through requested appropriations of $95.7 million, with some of that amount used to hire about 200 more of them. That represents a more than 47% budget increase.
District court judges would get 8% pay raises in fiscal year 2024 and 4% in fiscal year 2025. Judicial clerks would get 9% pay raises in fiscal year 2024 and 6% in fiscal year 2025.
Not quite no no-knock warrants, other provisions
The agreement would significantly curtail when a judge can issue a no-knock search warrant.
The agreement would allow them only when "the occupant or occupants of the dwelling will present an immediate threat of death or injury to the officers executing the warrant if the officers announce their presence or purpose prior to entering the dwelling."
Judges can now approve such warrants under certain conditions, such as when the police can demonstrate they are unable to detain a suspect or collect evidence through a knock-and-announce warrant.
Other policy provisions in the agreement include:
expanding the right for a free public defender to cases where a person appeals a district court's decision on a child protection case;
simplifying how victims of identity theft or mistaken identity can expunge court records to clear their names;
prohibiting peace officers from joining or supporting hate or extremist groups;
requiring places of public accommodation to provide closed-captioned television when a television is available;
allowing lawsuits seeking damages to continue after the person suing has died;
creating a carjacking crime and establishing penalties;
prohibiting law enforcement agencies from retaliating against, or penalizing a peace officer who intercedes against or reports another officer or employee use of excessive force;
creating a crime of organized retail theft;
prohibiting the state and counties from using private prisons;
restricting strip searches of detained juveniles;
establishing a supervised release board to review the cases of minors sentenced to mandatory life in prison;
establishing the Office of Missing and Murdered Black Women and Girls;
expanding the crime of an assault motivated by bias to include bias against a person due to the person's gender, gender identity, or gender expression;
changing the first-degree possession offense to equate the possession of fentanyl with the possession of heroin;
requiring the state, instead of counties, to pay for medical examination costs for criminal sexual conduct victims;
requiring carbon monoxide alarms in hotel rooms;
granting early conditional release to inmates who make sufficient progress toward rehabilitation; and
establishing a Clemency Review Commission and modifying Board of Pardons' operations.