Lynn Schoen's blood boils at the thought of her state government ignoring its citizens' voices. Fred Corrigan worries that government regulation will stifle a burgeoning industry that brings with it job growth and economic opportunity.
These are the emotions provoked by silica sand, a round grain of nearly pure quartz prized by oil and gas companies drilling for energy in other parts of the country and around the world.
Its value comes from the role it plays in the hydraulic fracturing process. Fracking, as it is more commonly known, yields natural gas by injecting a mixture of water, chemicals and sand into the earth to open fissures that allow fluids and gas to flow out.
Depending on your perspective, Minnesota is either blessed or burdened with some of the best silica sand deposits on the earth and, like it or not, silica sand is likely to be an issue the people of Minnesota will grapple with for some time to come.
The House Mining and Outdoor Recreation Policy Committee held an informational meeting on the topic Tuesday and experienced just a taste of the passion silica sand mining creates around the state. Representatives from several of Minnesota's sand mining companies testified, followed by officials from two of the state agencies involved in the issue, then several people who expressed opposition to the practice before the committee's time ran out.
Corrigan spoke first. Schoen spoke last. But each provided an articulate argument from opposite sides of the issue.
The mining industry's viewpoint
Corrigan is executive director of the Aggregate & Ready Mix Association of Minnesota, which formed the Minnesota Industrial Sand Council in 2012, and represents several companies that mine silica sand, or would like to, and many more that don't. He outlined a number of the mining industry's concerns regarding current regulations and proposed changes under consideration.  
"Industrial sand has been mined for glass production and foundry use for most of (the last 100) years, Corrigan said. "It is our understanding there are only eight – eight – industrial sand mining and/or processing operations in Minnesota at this time."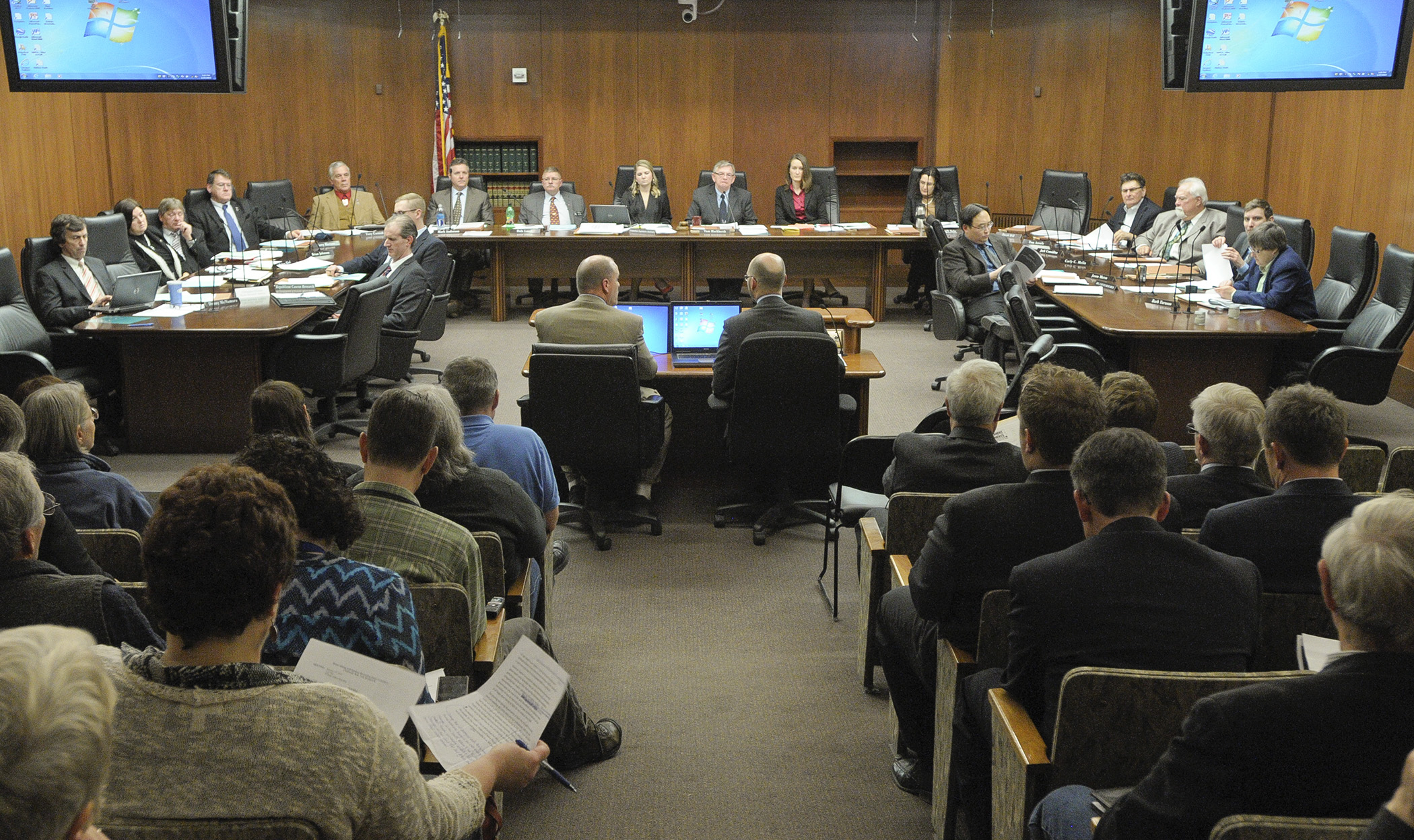 Members of the House Mining and Outdoor Recreation Policy Committee listen to representatives of the silica sand mining industry during a Jan. 27 informational hearing on silica sand mining. Photo by Andrew VonBank
Corrigan said local controls, which his members strongly support, have successfully regulated the aggregates industry for decades. He went on to express concern that silica sand regulations are not only too costly and time consuming for companies that want to mine silica sand, but may also harm those who mine other aggregate materials.
As things stand now, proposed non-metallic mining operations over 20 acres in size must complete an Environmental Assessment Worksheet, and those over 160 acres must complete an Environmental Impact Statement. The EAW gathers basic information about a project to determine any environmental impacts it may have, and whether a much more thorough study must be done that not only looks at impacts, but evaluates alternatives and considers mitigation. This study is the EIS.
Corrigan told the committee an EIS typically costs a mining company $1 million per year and takes between one to four years to complete. In addition to those costs and time, this is a pressing concern because a proposal to reduce number of acres for a mandatory EIS from 160 acres to 80 acres is currently under consideration by the state's Environmental Quality Board. Corrigan called the proposed rule "unnecessary and uncalled for" and expressed apprehension about the impact such a measure would have on all mines.
[MORE: Watch full video of Tuesday's House Mining & Outdoor Recreation Policy Committee hearing on our YouTube channel]
He said his organization has heard from counties that say they are not in a position to enforce one ordinance for sand mining and another for other aggregates. If they're forced to enforce both, Corrigan worries they will take the more stringent regulations and apply them to all mines. 
"It's been our concern through this entire process that the rules being developed for silica sand not transfer to negatively impact the mining of construction aggregates in other counties around the state," Corrigan said.
The opponents' perspective
Schoen is a city council member in Wabasha. She's also a member of the Silica Sand Rulemaking Advisory Panel created in 2013 to provide input to state agencies regarding industry regulation. The panel is comprised of representatives from local governments, private citizens and the mining industry.
Schoen told the committee that while she's enjoyed getting to know the panel's mining officials and has learned a lot from them, it wasn't the well-respected mining companies that concern her.
"What scares little towns like mine is the cowboy guys that want to come in and do what they want to do, and that has been our experience," Schoen said. "None of the smaller producers are in this room. It's just the top four (companies) who are setting a good example and are doing things well."
Opponents of silica sand mining are alarmed about the impact the mines can have on the air and water quality where they're located as well as the local infrastructure and quality of life. Because of these concerns, the Legislature passed new laws in 2013 to regulate silica sand mining.
Despite these regulations, many Minnesotans remain uneasy about the issue and several dozen attended the committee meeting. Those who were able to speak at the end of the meeting Tuesday criticized the proceeding saying they had not been invited to attend or offered enough time to explain their opposition. Schoen said her blood was "boiled" because of this.
"You're not seeing the whole picture, and until you see the whole picture you don't really have the truth," Schoen said.
Whether legislation will be introduced this session that further addresses the issue remains to be seen, but given the strong opinions on both sides, it only seems a matter of time before silica sand is once again on the agenda.
-------------------------
State agencies and silica sand
Several state agencies continue working to establish the rules and procedures that will provide the framework for silica sand mining in Minnesota into the future: